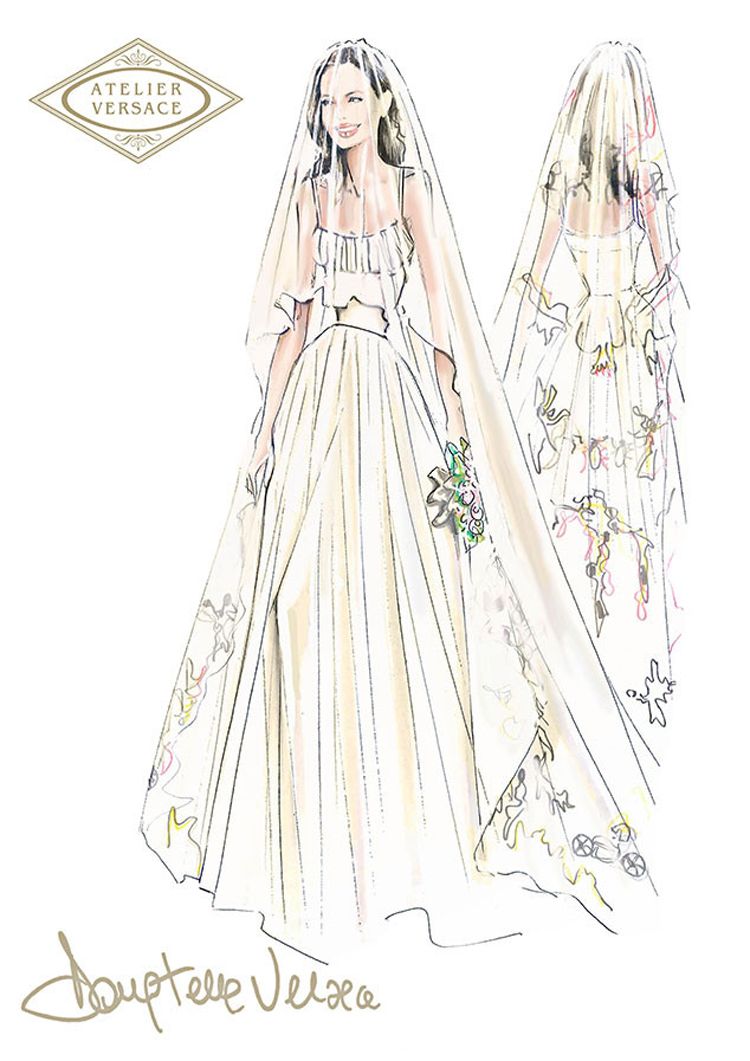 Photo Courtesy of Atelier Versace
Last week we heard that Angelina Jolie and Brad Pitt had finally tied the knot, but what we couldn't get our hands on were mentions of the dress. Was it a ball gown? Mermaid cut? Elie Saab? Oscar de la Renta? Was it even white?! We had to know; how could we emulate Angie's dress if we hadn't an inkling of what she wore? But this morning we finally got our answer. Jolie wore Atelier Versace—a surprisingly simple silk gown with a gathered bust and long (well-decorated) train.
Photo Courtesy of People Magazine
Created by the brand's master tailor Luigi Massi, the gown was custom embroidered with the doodles and designs of her six children. "Luigi is like family to me, and I couldn't imagine anyone else making this dress," Jolie told People. "He knows and cares for the children and it was great fun putting it together." While, personally, we would have chosen something a bit more classic for Angie, she has always marched by the beat of her own drum, and creating her wedding gown was no different as her veil and train were littered with scribbles from the Jolie-Pitt crew.
Photo Courtesy of Hello Magazine
Outfitted entirely in designs from the Italian house from her soft veil to her white pumps, Donatella Versace tweeted at the glowing bride on the day her wedding news broke saying: "Beauty, class and brain. That's you #AngelinaJolie. I wish you all the best and happiness to you and your wonderful family. Love, DV."