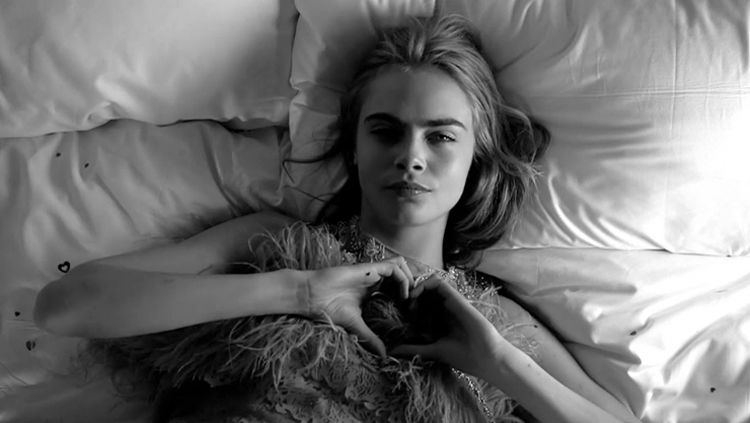 Photos/Videos Courtesy of Love Magazine
Cara Delevingne is a force that can't be stopped. The model/actress/singer/designer is adding another slash to her title (because why not?) and will be joining Love magazine as a guest editor starting with the upcoming spring 2015 issue. Hand-selected by Love's editor-in-chief Katie Grand (the two have been close friends since 2009), Delevingne joins the contributors list, which includes fellow supermodel Edie Campbell, who joined the publication in March of last year. Having graced the glossy's cover four times since spring 2010, as well as participating in their yearly advent calendar and a number of their offbeat viral videos, it will be interesting to see the model in a behind-the-scenes position, working some of her quirkiness off-camera.
"Normally I'm the one being asked the questions, but I loved the experience of being on the other side—asking the questions and having more directive control," Delevingne explained in a press release. There's no word yet on who she was interviewing or what kind of hard-hitting questions she was offering up, but it doesn't look like we'll have to wait long—Delevingne's editorial edition hits newsstands February 9. We're not hoping for anything too over-the-top, but we'd love to see her give real input into the magazine, as most celebrity contributors offer little more than a name and face.
"I've always known that [Delevingne]'s an exceptionally bright, sharp and hilarious young woman. That's why I was so keen to let her have this chance to exercise her skills as a journalist and writer," Grand said in a statement. "And she has proven herself to be a fearless interviewer, never afraid to ask all the questions we want to know the answers to." While it may sound like it, Delevingne hasn't exactly hit Katie Couric status, and won't be quitting her day jobs just yet. In the magazine look for her contributor portrait in the masthead, shot by Sølve Sundsbø and styled by Grand.