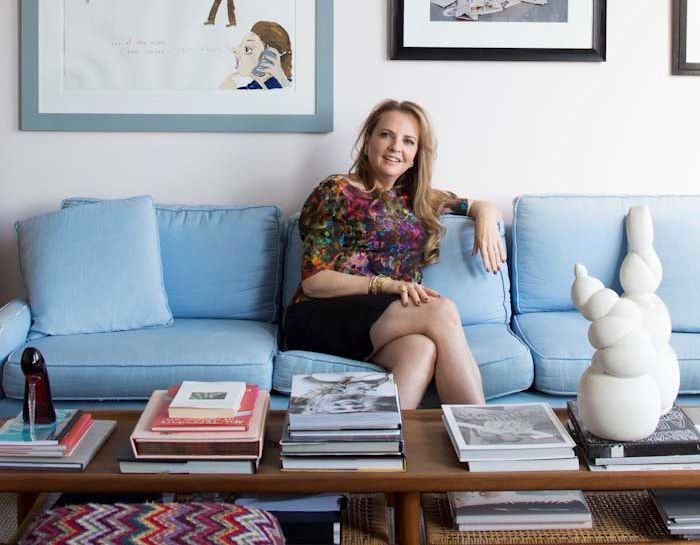 Photos Credit: Stardust Brands
We're not going to lie—we love a good fashion campaign. Seeing our favorite beautiful faces and designers come together for a high-profile mash up of star power and creativity is fun, Instagrammable and just a little bit inspirational. But there's more that goes into a campaign than finding a good looking actor willing to pose in Gucci's latest. Victoria Brynner is the founder of Stardust Brands, a company that casts A-listers for major campaigns with names like Dior, Louis Vuitton, Versace and Chanel. She's the woman responsible for casting actors, models and musicians in some of the most notable advertisements in fashion.
The daughter of Russian actor Yul Brynner and Chilean model Doris Kleiner, Brynner was born and raised in Switzerland, and grew up surrounded by the entertainment and fashion industry. Preferring to be behind the camera, she focused on photography and design, moving to Los Angeles to pursue her dreams of being a professional photographer. Having a hard time getting her career off the ground, she began working for an Italian magazine creating content and offering production services in her spare time. "With my European background, my upbringing in entertainment and in fashion, and my understanding of people's references, I was able to quickly build a great background, a great portfolio of clients, that's really how I started," she told JustLuxe. She slowly began to build her business and within a few years was working with some of the biggest names in fashion including photographers like Annie Leibovitz, Steven Meisel and Mario Testino.
Today, Stardust Brands has worked with everyone from Leonardo DiCaprio to Lady Gaga, from Zac Posen to Balenciaga. Brynner is one of Dior's go-to consultants, so when they're looking for a new star, ad design, event—they come to her for answers. "I just have an intimate knowledge at this point of what they like and don't like and how they want things done," she said. "I think the fact that I speak their language, both the actual language and the cultural language, is very helpful here." She's worked with them on numerous campaigns, concept stores and just cast Johnny Depp in the new Dior Sauvage fragrance ad. "I had done something very small with Johnny many years ago, and I really wanted to do something else, so that was really putting a brand and a person together instead of the brand coming to me," she said. "It took a year and a half or however many discussions to really get to the place of shooting a campaign. You know, I don't know if had I not been there that they would have thought of him. Possibly—it was just good timing."
Depp was a rare case. Normally when casting, Brynner tries to find both a brand and a star that have projects going on simultaneously so that the partnership will be beneficial to both parties. "I look for people who have an understanding of what the brand wants to do, who preferably, have something going on at the same time the brand is breaking their campaign," she told us. "Then you end up having double marketing: the brand benefits from the promotion of another project if it's a movie or something like that, and the movie benefits from having their talent being super exposed at the same time. It generally works hand in hand." But it's more than just having a mutual interest in a campaign's success. Potential customers have to be able to really see a star connect with a brand in terms of general interests, style and personality. "The consumer is smart," she noted. "They know if something is real or fake, so I have to see a real symbiosis between the talent, the brand and the product for it to work."
Sometimes a brand will contact her when they're looking for a specific star, other times they simply have a general idea of what they're looking for—Brynner prefers the latter. She always has an eye out for a new face, an up-and-comer or an underdog to take to the top with a big campaign like she did with Scott Eastwood for Davidoff Cool Water. "I can't say I found him because he had done some projects before, but certainly I got the client to bet on him, and now he has—I don't know, how many followers, over one million [ed. note: 1.2 million]—but he's definitely much hotter now then he was when we found him two years ago." Of course, not every campaign is a major success like Scott Eastwood, or Liv Tyler's decade long run at Givenchy, another campaign that Brynner casted. "I did a deal with Anne Hathaway, who was certainly not undiscovered, but I did a deal with her and Lancôme. It turns out it was a short lived deal, but that was sort of before she was the Anne Hathway we know today," she said. "Lancôme could have been a longer relationship and that didn't last, but I think that was part of a big change at Lancôme within management."
While Brynner enjoys finding undiscovered stars and being ahead of the curve, brands usually prefer a well-known celeb with lots of media coverage and even more followers. "Everybody is looking for a story to tell. Everybody is looking for content that is meaningful and that will have the ability to debut on all the different media [platforms] and garner people's interest in more than just a picture," she explained. "So for me, the type of castings that I get are generally in that vein. It means that either somebody has a really interesting look, they have a really great news item that has great timing, they have an incredible following or they have an interesting story to tell. It will vary on what the brand needs, or what their budget is, but most of the time these days it's not enough to just be a pretty face."
When she does find the right face, it can take anywhere from a couple months to over a year (as was the case with her recent Johnny Depp appointment), before the campaign can be finalized. "The brand would call me and they would say 'okay at the end of the year or six months from now we have a launch and we are looking for a face,' and now with all the media available people generally come with an idea of who they like or who they don't like or people they've looked into," she explained. "I will generally propose a list of people, I will recommend within that list my top three choices, and then from there I will handle anything that has to do with the business deal and the execution of the campaign." She's had turnovers happen in as little as two months, but sometimes when a brand has a very specific vision, a celebrity in mind and a product they want to push quickly, the demand may be as little as five weeks. "That's challenging to do, to come up with a selection of people, to make offers, to negotiate contracts, I would say about two months is the minimum."
Her company not only casts celebrity talent, but works on production and consultation as well. "I got [into the space] early and I was able to offer a variety of services at a time when people … wanted you to do just one thing. You're an art director, or you're an ad agency, or you're a casting director," she explained. "What people seemed to really appreciate was me and my company, sort of our unique ability to pull our projects together in so many different fields. It makes it interesting because I'm able to delve into different areas." One of her favorite productions was a concept store that Dior asked her to put together, complete with exhibits, dinners and soirées. It was extremely successful and showcased a seven week long temporary gallery with conceptual designs and photographs from Patrick Demarchelier.
Working with photographers like Demarchelier is nothing new for Brynner, and as a former photographer and a producer she makes sure to utilize her past talents and one-of-a-kind connections to cultivate a better design for her clientele. "I definitely have a passion for photography and I have, I think, a pretty well-trained eye at this point," she said. "Part of the service that I offer, and part of how I get involved in these campaigns, is certainly my understanding of photography, my knowledge of the photographers, and my knowledge of the process of what can be done with a certain photographer versus what can't." True to her past, she even goes so far as to try to include up-and-coming artists when possible, and be the first to give young talent their big break. "I do like finding new photographers, but I obviously have a huge amount of respect, admiration and excitement when working with all the established great ones. But yes, my understanding of the process and my understanding of the execution is certainly something that has benefited me and benefited my clients."