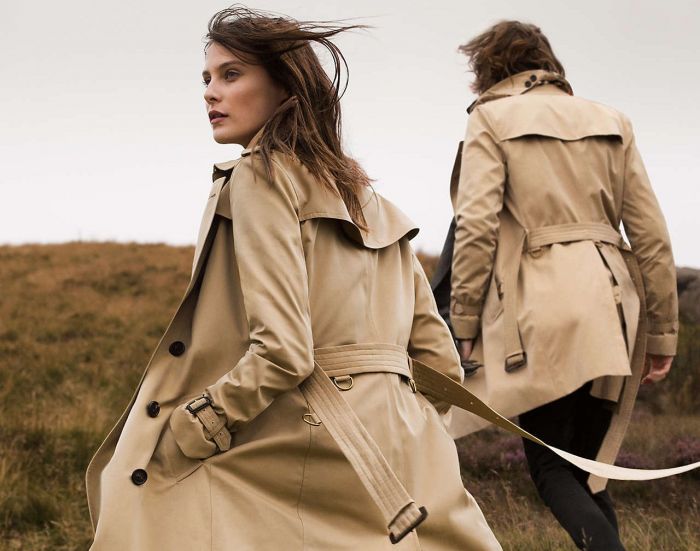 Photos Credit: Burberry
It's no secret that the luxury market is not doing so hot. Market reports for 2016 are showing dismal projections and equally low sales numbers, suggesting that this year is going to be pretty slow for the luxury goods sector. Yesterday, Burberry CEO and Chief Creative Christopher Bailey announced how the label would be cleaning house in the coming months in an effort to fight back against declining profits. With the announcement came the preliminary numbers for the year ending March 31, 2016—they're weren't great, though they were no worse than expected.
Their plan, in the simplest terms, is to cut the fat from the brand. In the past few months, Burberry announced that they would no longer be holding multiple runway shows, but that their men's and women's collections would be shown together at two bi-annual events during London Fashion Week. They also chose to adopt a see now, buy now approach to the runway, making each collection immediately available online and in-store, following the show. The new strategy involves simplifying both corporate and in-store operations, minimizing product assortment, focusing on seasonal pieces and saving money by shifting promotional content from overseas tourists to locals and a younger "digitally-engaged" shopper. Their goal is to cut £100 million (approx. USD $146 million) of annualized costs by 2019.
The entire luxury goods market is struggling due to declining purchases in China, but Bailey announced plans to focus instead on the label's digital strengths, pointing out that their e-commerce sales were up and partnerships with online companies helped boost their social media followers by 30 percent. To transition from "product breadth to product focus," the brand will cut 15 to 20 percent of its assortment, and redouble their efforts on best sellers and products with the most potential like handbags and classics. On the retail front, they'll be opening fewer stores, but improving those with the highest numbers of customers and sales to better serve the areas that are most productive. This will also include relaunching an improved Burberry app, as 50 percent of their e-commerce sales are made via mobile. Bailey also used vague phrases, suggesting the company would be "simplifying how we work" and "eliminating duplication," hinting at possible layoffs in the future.
Their report showed that revenue was down one percent to £2.5 billion (approx. USD $3.7 billion) while comparable sales were also down by one percent. Pre-tax profits in the 2015-16 fiscal year fell 6.5 percent to £416 million (approx. USD $608 million), while pre-tax profit was down 10 percent to £421 million (approx. USD $615.6 million). "What we are planning represents real and significant change to what we do and how we do it, with the aim of becoming a stronger, leaner, more efficient business," Bailey told analysts and investors. "Our industry is facing significant challenges—especially with near-term trading—but we believe our targets are stretching but achievable. There is so much to build on." Burberry shares dipped 3.59 percent to £11.02 (approx. USD $16.11) following the announcement.