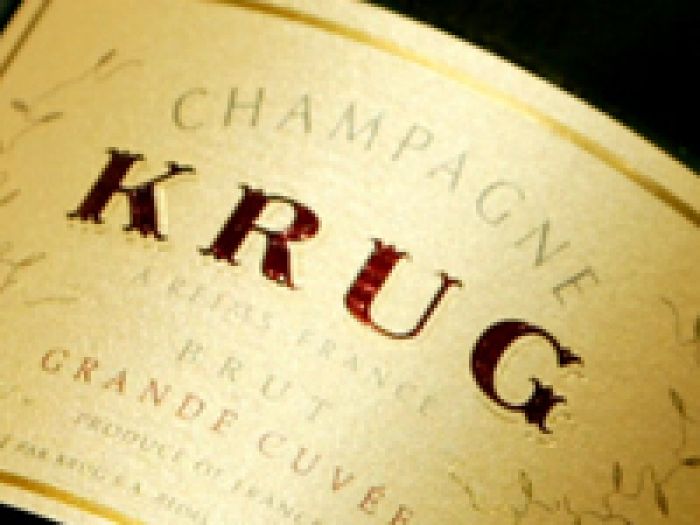 Food & Spirits:
The elaborate sophistication of the lifestyles of the wealthy has long been associated with the finest things life has to offer. From exotic half million-dollar automobiles, tea luncheons on white sand beach shores, to caviar and Champagne cocktail parties before the curtain on opening night of the opera, this world has many cherished magnificent treats to offer.
One of the items most synonymous with luxury is, of course, Champagne. That bubbly, amber, liquor sets wine connoisseurs and gourmets alike, into a tizzy of excitement. There is something so pure, so simple, yet so refined and charismatic about Champagne. The idea of Champagne alone has always been intertwined with luxury living and the lifestyles of the rich and famous. Champagne is a true pleasure that cannot be replicated or substituted in any way. Champagne is the most lavish comfort available.
Founded in 1843, Krug Champagne has always been considered one of the best Champagne houses in all of France. Since its founding, Krug has produced some of the most memorable and coveted vintages ever and Krug's uncompromising dedication to excellence is what has made it such an enduring brand. Now, with membership and stars under the LVMH wine division, Krug still believes in the same philosophy of making wine as it did when it first started. This dedication is what makes every bottle of Krug such a tantalizing experience.
Recently, a bottle of the coveted 1928 Krug was auctioned off at the Acker Merrall and Condit's Auction for a record price of $21,200, making it the most expensive bottle of Champagne in the world.
Considered to be "one of the greatest Champagnes ever made," the 1928 Krug surpassed what experts estimated the closing bid would be. The stars aligned in absolute perfection to create the flawless, legendary vintage. The astonishing longevity of the 1928 Krug is attributed to Krug's standard of attention to detail, details that singularly are not that unique but together make Krug, Krug. The precise amount of sun, heat, dryness, and rain created a perfect climate for healthy and beautiful grapes. Then the grapes where picked specifically at the end of September for their high sugar content and high acidity, which is imperative for a long aging process. After decades of exact and careful storage in the belly of Krug cellars, high notes of honey and apricot as well as its sheer Krug lineage characterize this stunning rarity. The 1928 Krug is a true marvel of vintages that represents a past era that will never be recreated.
For many, Champagne is the pinnacle of luxurious living. Few things in life equate to such a stunning show of extravagance. The 1928 Krug represents the finest example of what great Champagne can be. Now, it is not only considered to be one of the greatest bottles of Champagne ever crafted but also the world's most expensive.
For LxM Carly Zinderman