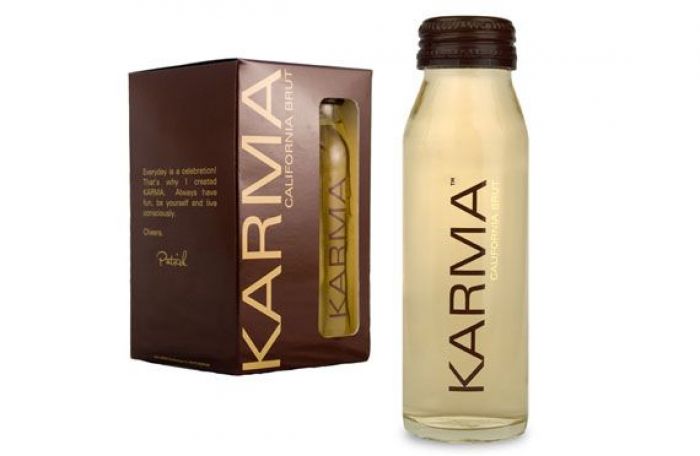 Fine Wine:
California vineyards are once again breaking all the rules as they encourage the spread of good Karma, a ready-to-drink, 187 ml single serving of California brut-style sparkling wine.
Packaged in a glass bottle, fashioned to resemble a champagne flute, with a wide screw-off cap, KARMA is a casual new way to drink effervescent wine, the same way you can enjoy a beer or cocktail.
Sourced from California's famed Central Coast, KARMA is "clean, crisp and dry," with intense aromatics and mere hints of melon and pear.
The chic new beverage has been around since 2007, quickly becoming a favorite drink with Hollywood celebrities and hipsters who know how to turn every day into a celebration filled with good KARMA.
Patrick Wilson, Founder & CEO of Karma Fine Beverages explains, "My goal is to make KARMA the most desirable new alcoholic beverage on the market. I want to remind consumers that KARMA lifestyle. It's about enjoying life, living in the moment and just having fun."

Consumers can find KARMA only at the most exclusive nightclubs, hot spots and lounges, as well specialty retailers. KARMA encourages luxury fun lovers to "Toss out your champagne flutes for a taste of the good life."

For JustLuxe Carly Zinderman