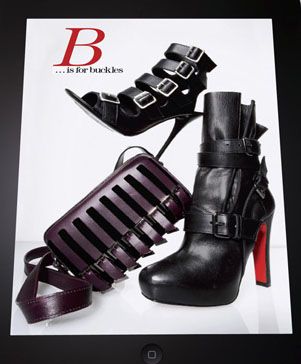 Fashion On-the-Go:
When the
iPad
came out earlier this year it was an instant phenomenon. No, it didn't change the world like the iPhone, but it has come pretty close. In case you missed the news in September, the iPad is cannibalizing laptop sales by 50%. That's serious talk!
Riding the tech wave of the uber-popular iPad, Marie Claire just launched their Fall Fashion A to Z iPad App for serious fashionistas and Marie Claire readers who want to take the fashion sense of the magazine with them wherever they go.





For $2.99, Marie Claire gives you:


1) The ABCs of Style: Bone up on fall trends with runway videos and 360-degree view of bags and shoes.
2) 7 Days of Dressing: Synch your calendar with outfit ideas for every day of the week and kiss nothing-to-wear mornings buh-bye.
3) Beauty Sampler: Try out the season's best makeup with Marie Claire?s virtual tester.