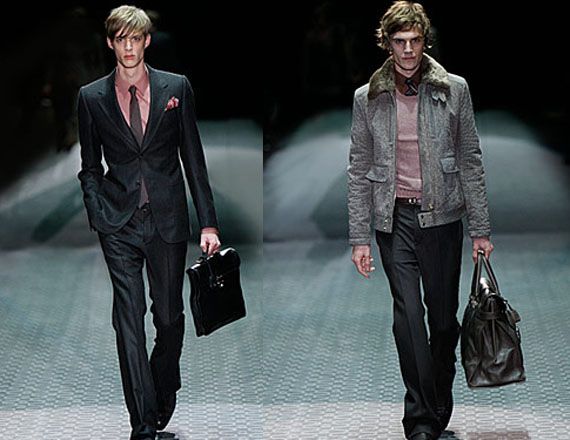 The
Gucci
Men's Fall-Winter 2011/2012 was inspired by the vanity of men, not exactly your typical fashion topic.
Always glamorous, the Gucci Menswear collection followed the 70s trend that was found on many of the Milan catwalks for menswear collections. Wide leg pants with slight flares and a color palette laced with cognac harkened back to disco days. It still retained a decidedly Italian flare using colors traditionally attributed to the females, like soft pink and lilac with gray, stone and purple.

Of the Gucci man that inspired the collection, "He's elegant, sophisticated and proud," described Gucci creative director Frida Giannini to WWD. "I was thinking of iconic, stylish men like Rod Stewart and Mick Jagger, but I didn't want to be referential or nostalgic. I wanted a new story."

The collection marked the celebrated house's 90th year. The heritage of looking sleek was clearly marked in sophisticated double-breasted jackets, soft-looking alpaca sweaters and lightweight coats.

"Vanity and tradition are key words and I wanted to translate heritage into something edgy and contemporary," Giannini told the International Herald Tribune after the show.