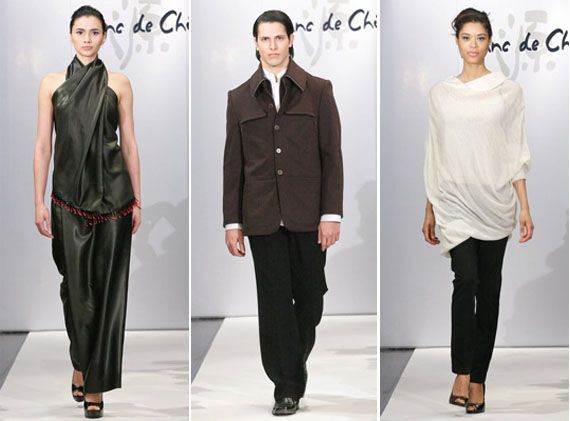 Photo Credit: Shawn Punch Photography
Debuting just past the Chinese New Year, Blanc de Chine's Fall/Winter 2011 collection at
New York Fashion Week
showcased The Five Elements: metal, wood, water, fire and earth.
Also known as "Wu Xing," The Five Elements are the Chinese philosophy of dynamic change, representing interactions and relationships. Each element is also associated with complex aspects of nature:
Wood represents energy and the root of life

Fire represents heat and uprising

Earth represents the origin of life

Metal represents the properties of change

Water represents the endless stream of liquidity
For Blanc de Chine's Fall/Winter 2011 collection, each element was used in a different part of the collection. The Women's Fall 2011 Collection is inspired by wood, specifically the Chinese wooden architectural feature of "Upturned Eaves." This architectural detail was translated into the clothing via bell sleeves and curved collars as well as varying sleeve lengths.

The Women's Winter 2011 Collection was inspired by metal in the bronze ceremonial urn from the Shang Dynasty. This historic urn was translated into apparel with wide-brimmed cuffs, collars and hems, and subtly embroidered touches on each garment of the brand's abbreviation, "BDC," which is reflective of the etching on the antique ritual container.

For evening, Blanc de Chine gave a modern twist to the Chinese Qi Pao dress, adding detail and beading to give the dress the appearance of fire, the elemental inspiration for the collection.

Blanc de Chine also showed a menswear collection, which was inspired by metal and the traditional Chinese armor, as well as water and earth.

All told, the Fall/Winter 2011 collection followed Blanc de Chine's vision of merging Chinese tradition with modern fashion.