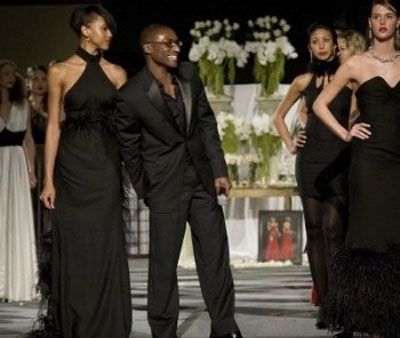 Up-and-coming
high-end design
talent, Borris Powell, designs under label Borris Powell. He is a custom clothier who creates casual to couture show stoppers that are soft and flowing and romantic.
He uses luxurious fabrics such as cashmere, lace, faux fur, silk and satin to create stunning dresses.
Borris says his design style is classic, romantic and seamlessly sexy, and he would love to see women wear dresses everyday.
For Borris, the accent has always been on looking good. He credits his mother's sense of style with his desire to create beautiful clothing. In high school, he started a competition where students would wear their best clothes on Fridays.
While attending Jacksonville State University in Alabama, as a psychology major, he realized he wanted something bigger. So, after two years of school, he decided to travel and it was then that he realized he wanted to be a style maker and create beautiful dresses.
The mission for Borris Powell is to keep it simple by creating timeless fashion that illuminates inner beauty. Borris is inspired by, and often compared to, such designers as Christian Dior (designs from the late 1930s and 1940s), Valentino and his mentor, Tchad Elliot.
His advice to aspiring designers is to be creative, know who you are, and what you want in the industry. You must have thick skin, never take things personally, because you will win some and lose a lot. Also, make sure you take care of the business end and have fun making beautiful garments. He would love to create beautiful designs for Heidi Klum, Nicole Kidman and First Lady Michelle Obama.
In 2009, Borris Powell was part of Kansas City Fashion Week and Fashion Focus Chicago. Recently, he showcased in the LGN events "A La Mode" International Catwalk Show as part of
London Fashion Week's
off-schedule program, where he was the only American designer participating.
Borris would like to see Chicago grow into a fashion destination because there is a lot of talent here. He would also like to help bring celebrities and socialites to events in the city. Borris envisions opening locations in Chicago, Amsterdam, Milan or London. Prices for his custom creations range from $900-$4,200.
Via
Examiner.com