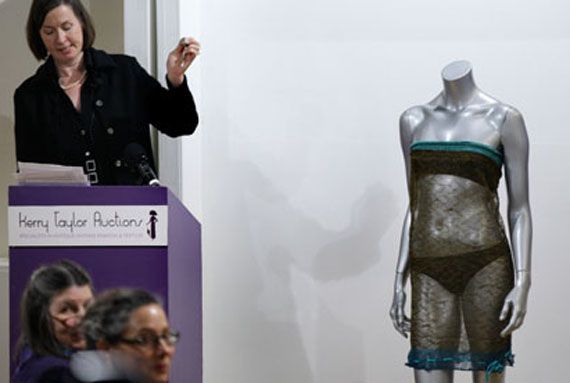 Photo Credit: Sang Tan/AP
The see-through knitted dress that
Kate Middleton
wore when she caught Prince William's eye at a university fashion show has sold at auction for £65,000.
Kate Middleton wore a very revealing sheer knit dress at a charity fashion show at the University of St. Andrews in 2002. That dress not only caught the eye of Prince William, it has now become an iconic piece of fashion history, selling for auction at more than six times the price of £8,000-£10,000 estimated by Kerry Taylor auctions. The total price, including 20 percent buyer's premium, was £78,000. Bidding began at £20,000 and reached around £50,000 within minutes.
The dress was designed by then fashion student Charlotte Todd, a textiles graduate of the University of the West of England, who was the seller. She said, "I never imagined as I sat knitting this piece it would be so important."
The dress was originally designed as a skirt, but the organizers at the charity event decided it should be a dress at the last minute. Prince William is reported to have paid £200 for a front row seat at the charity event and is said to have approached Middleton after the show.
An unnamed man at the back of the salesroom in Dulwich, Southeast
London
said he was purchasing the dress on behalf of "Nick from Jersey." When questioned about the buyer by The Guardian the man said, "He thinks it's an iconic piece and is very happy with the purchase." Middleton's next iconic dress will be whatever gown she chooses to walk down the aisle in at Westminster Abbey for her April 29, 2011 wedding ceremony.
Via
The Guardian UK