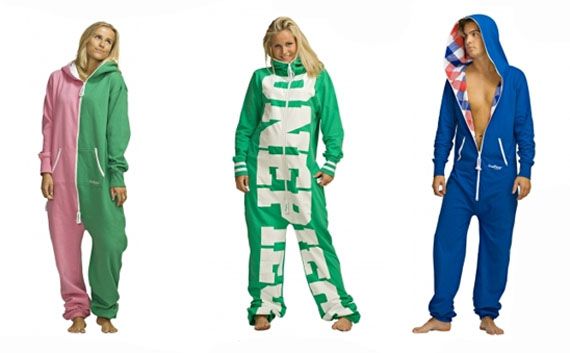 Photo Courtesy of OnePiece
Reality star and fashionista Whitney Port recently tweeted about attending a "onesie party." It seems that comfort is the new cool as the fashion-forward shop Kitson has now gotten in on the luxe version of the Snuggie, introducing the OnePiece.

OnePiece is the brainchild of a bunch of Norweigan friends (Thomas Adams, Henrik Nøstrud and Knut Gresvig) that is basically a hoodie attached to sweats. They're made of high-quality, fleece and cotton with a zip that starts at the crotch and goes up to the top of the head. OnePiece offers brilliant colors and patterns, perfect for lazy days or quick trips to the grocery store. They are even said to be comfortable enough for plane trips.

The OnePiece is a grown-up version of the popular infantile "onesies," but without the snap-crotch or "feet." Instead, a supersized zipper takes center stage on the rompers and jumpers that can be worn by members of either sex. If it's possible to have a more fashion-forward Snuggie, it is the OnePiece.

After gaining popularity in Norway, the OnePiece swept Europe, with features in The Guardian, Sky News and The Daily Mail and is now being featured in the hip windows of L.A.'s Kitson boutique on Robertson Blvd. Kitson is regulary featured in popular magazines like OK! and People so U.S. exposure is limitless.

Celebrities of both sexes have embraced the trendy OnePiece, with fans reportedly including Sarah Jessica Parker, Matthew Broderick, Jude Law, Kate Moss, Katy Perry, Russell Brand, Perez Hilton, Kelsey Chow and Paramore's Hayley Williams.

Visit www.onepiece.com to see all the colors and styles.