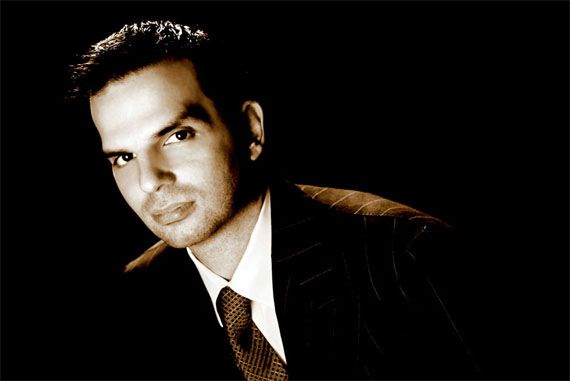 Photo Courtesy of George Zaharoff
Tastemaker and world traveler, high-end menswear
designer
, George Zaharoff, developed his craft in places like New York and Milan. He designs his signature line of men's clothing using luxe and exotic fabrics like Italian bamboo silks, linen weaves and cashmere.
His elegant American-made mens suits come in pinstripes and other cool patterns that go effortlessly from office to dinner and beyond. George is a designer with a social conscious who strives to leave only a small carbon footprint. He says his motto is: "Everything in moderation."
George has traveled the world, raking up well over two million miles - 1.5 million on one airline alone, and, of course, he's bilingual. "There are very few places I've never been, Antarctica (no desire), small sliver in Northwest South America and a part of West Africa," George said. "When I daydream, it's me either in the Maldives or on an airplane."
George's mother was a fashion designer in the late 70s and 80s and he remembers wanting to be a fashion designer since around the age of four. He also remembers being told, "Oh no, fashion designers are for little girls, not boys."
We asked George how he got into the fashion business and he responded: "It's a very long story, but I had gone to school to become an aerospace engineer. During my sophomore year, I changed degrees and schools and decided to get a business degree in operations management from DePaul. Ideas and designs always came easy to me, but it was the degree from DePaul that taught me how to combine my talents to construct a beautiful finished product.
"While at DePaul, I went for long weekends to Paris and Milan. I dreamed of an international fashion house. In 1995, we were admitted in the Camera Nazionale della Moda Italiana (the Italian fashion council) and began actively showing in Milan.
Asked to describe his mission and design philosophy, George said: "To create a first-class brand everyone would be proud to be a part of. Fashion is very particular - and there is so much that goes into a garment that you see on a sales floor. So many people rely on supporting their families - from the fabric mill and seamstresses to the retail floor. For me, fashion is not just a jacket or a dress; fashion is life."
George's advice to up-and-coming fashion designers: "You have to know who your customer is and to not deviate. There's production, finance, sell-ins, sell-throughs, all which can be overwhelming. But the most important thing for a designer to know is that it is all about the brand. The brand is its own entity; there is no room for egos."
Although George gives credits to all of the mentors he has had throughout the years, he says, "Neiman Marcus' fashion director, Joan Kaner, had a tremendous influence in my life from when I started in
Milan
, all the way up to when she retired three years ago. My second mentor, Mara Urshal, who one might recognize from 'Say Yes to the Dress' on Lifetime was an incredible inspiration during my beginning in Milan."
We asked George to describe his style and collection: "Zaharoff is American style with a touch of European flair. Just a little different to make someone stand out of a crowd. For Zaharoff, it's all about fabric. I love the movement of people and goods and the most exciting place for me is an international airport."
How does George create his collection? "In order to keep fresh ideas flowing and to stay inspired, I am non-judgmental and open to anything - new thoughts, new discussions, and new places."
Prices for the collection range betwen $895 and $3,000. You may purchase the Zaharoff collection at select Nordstrom and Mark Shale stores. Visit
zaharoff.com
to see more.
Via
Examiner.com