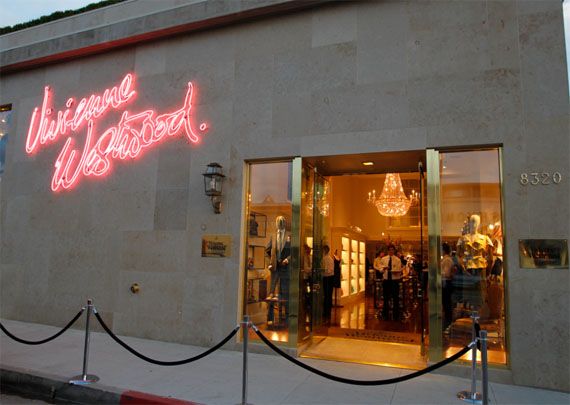 There was quite a stylish commotion on
Melrose Avenue
on Wednesday night as what seemed like all of L.A. stopped traffic to warmly welcome Vivienne Westwood to town and toast her first flagship store in the U.S.
The evening drew the likes of Dita von Teese, Kristin Davis, Marilyn Manson, Malin Akerman, Liberty Ross and more. Christina Hendricks, the face of Westwood's 'Get a Life' Palladium jewelry collection, also stepped out for the celebration to launch the collection.
Resplendent in an intricate cream-colored crochet floor-length mermaid-style gown, the designer, (who told us that she never leaves
Los Angeles
without a trip to the Getty Museum), made a grand entrance and was greeted by friends, fans and doting admirers from near and far. "I'm really pleased everyone's so excited and that people like the store. I want to make it better actually! It should have a black ceiling and all kinds of things, but I'll improve it later!" she shared with a wink.
"L.A. is a great place to start things, I'd like to do things here more than anywhere else in America because of the red carpet possibility. Plus, I like it here. I feel comfortable here. I like this town. I have friends here!"
Friends of all kinds, that is, including hordes of eclectically clad partygoers who reveled in Westwood's creative spirit, merrily spilling onto the wraparound outdoor deck and to the rooftop as well. With whimsical wares at every turn, most guests couldn't help but ogle the collection and profess their deep admiration for the famed designer.
"This store shows off the best of her collection, plus it's huge — which is interesting. The funny thing is, I actually draw more inspiration from her as a person, than actually owning a piece of hers. She's such a fashion icon to me. She's always been so rock and roll, and some people just get that," offered Mischa Barton, who pointed out several oversized tote bags that took to her liking. "I'm just obsessed with them, they're so beautiful!"
Liz Goldwyn, who just returned to L.A. from London a few days ago, carefully studied the racks of clothes on display and concluded, "Vivienne really celebrates womanhood. I love that she uses a lot of corsets in her work...she's just a master! I'm psyched that she's in L.A. now," As for her personal favorite fashion items from the designer? "I have quite a bit of Westwood, but I love her shoes. I think they're really dirty and perverted and amazing!"
Traipsing carefully along the perimeters of the stunning jewelry cases, Anna Kendrick couldn't contain her enthusiasm for the covetable pieces. "I'm a big fan. I'm really truly excited. Every time I go to London, I have to go to her store and now I don't have to make such a long journey!" the petite actress, who showed off her own stud earrings by the designer, confessed giddily.
"I used to drool over everything of hers online, but now I can just come to Melrose. I am dying over all of the bags, though…and a trench that I might seriously just have to get on!"