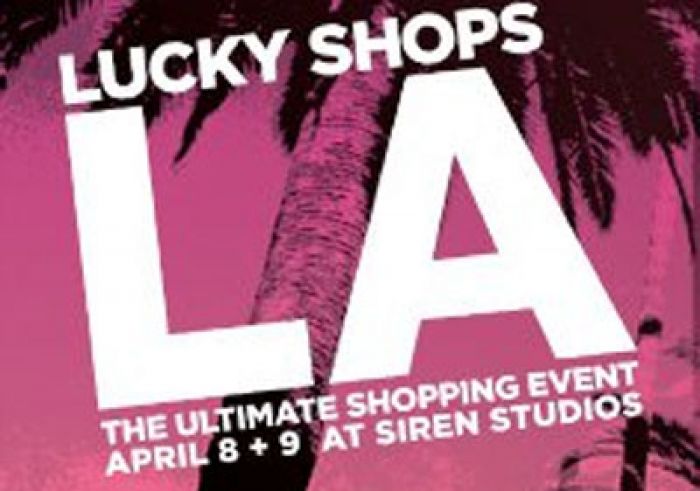 Droves of perfectly styled ladies including
Whitney Port
, Mandy Moore, Jordana Brewster, Rachael Leigh Cook, Michelle Tractenberg, Selma Blair and more crowded into Siren Studios on Thursday night to kick off the first ever 'Lucky Shops L.A.' event presented by ZYNC from American Express and
Lucky Magazine
.
The event, which has been hugely successful in New York for eight years strong, boasted a smattering of cool contemporary designers like Corey Lynn Calter, Winter Kate, Rebecca Minkoff, Geren Ford, Foley + Corinna, Isabel Lu and more ó all at deeply discounted prices.
While serious shoppers like Cat Deely ("In ten minutes I managed to get a pair of YSL shoes and an Elie Tahari dress. I think the shoes were only $200, bright red gorgeous shoes!" she gushed to us) buzzed about the three-story space snapping up must-have spring pieces on the fly. Editor-in-Chief Brandon Holley surveyed the event with satisfaction and took a moment to reflect.
"L.A. is the absolute perfect city for Lucky Shops because the women here are so stylish. And, in true L.A. fashion, this event is a little more relaxed than our New York one! There are usually lines out the door and you canít even get in. Iím actually having a glass of wine and enjoying tonight," she said with a relaxed smile. And quite fittingly, the editrix had shopping on the brain as well. "Iíve got my eye on the Barneys Co-op, Helmut Lang and Theory booths. I want to buy a Claire Vivier bag and some new fragrance before I get out of here!"