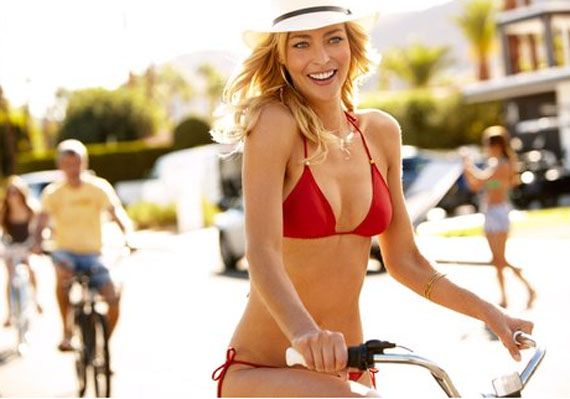 Photo Courtesy of ViX Swimwear
Born in Brazil,
ViX Swimwear
looks perfectly suited on any beach in the world. Named for Brazil's Vitoria beach by Brazilian born beauty Paula Hermanny, ViX Swimwear combines modern style with a jet setting lifestyle for a seamless fit.
Inspired by her fashionable grandmothers, Hermanny still channels their classic beauty as she travels around seeking inspiration for her luxurious collections of beachwear. "As a young girl, I looked up to my grandmother, Joana. She was always beautiful, classic and perfect - from her Chanel flats to her little Burberry raincoat," Paula said.
From her home in sunny
La Jolla, California
, Hermanny spends a lot of time at the beach, soaking up the smallest details for inspiration. "When I'm designing, I picture that woman who represents everything there is about style," Hermanny said. "One year, I might see her in St. Barts and I can picture what she's going to be wearing, and that image becomes the basis for my collection."
Her dedication to detail and her love of travel has made ViX a favorite of celebrities who have been spotted wearing ViX bikinis on beaches around the world. ViX superstar fans include Brooklyn Decker, Cameron Diaz, Denise Richards, Marisa Miller, Hilary Swank and Beyonce.
ViX Swimwear has been featured on beautiful beach bodies in the pages of
Vogue
,
Elle
,
InStyle
,
People
and
Sports Illustrated
. It can be found at luxury retailers around the world including Neiman Marcus, Saks Fifth Avenue Bloomingdales, Harvey Nichols and Holt Renfrew and online at vixswimwear.com.
See our picks for
Best Swimwear