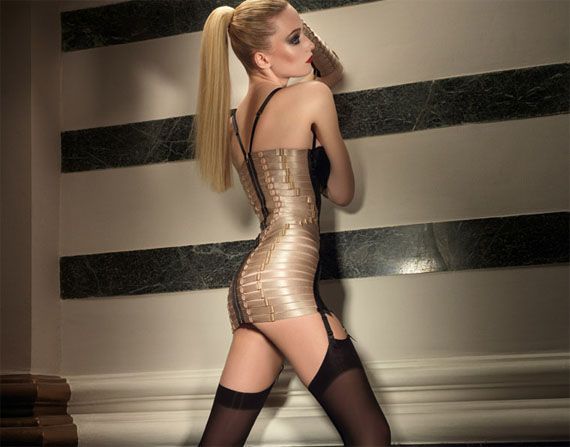 Photo Courtesy of Bordelle
Sexy, dominant, provocative and secretive are just a few words that come to mind while looking through the
Bordelle lingerie
collection. Each piece looks like the perfect marriage of scandalous and luxurious.
Bordelle is in its own class. It's risqué, erotic and very desirable. It has the ability to make even the most liberated blush, yet can be worn comfortably for the conservative. Although Britney Spears shed light on the brand when she wore the unmentionables on her "Circus Tour," it was the way that Alexandra Popa and Javier Suarez were finally able to create a form of "spanx" that looked more like sensual lingerie than a girdle - while still performing the same function.
Bordelle is not fancy like other high-end lingerie brands. It is a niche and unusual concept in women's intimate wear. It isn't laced with flowers and fanciful finishes; instead the overall look brings out the assertive, domineering goddess in every woman.
These pieces are perfect for a sexy little something under an elegant dress or a surprise game of dress up. The blend of satin bandages combined with the unique interpretation of sensuality is what Bordelle has come to embody.
Why we like Bordelle
Provocative pieces that can be worn under conservative garments.
The bustiers mange to cinch, tuck and hide unwanted curves while not looking outdated or old fashioned.
Aside from the bras and underwear, many of the dresses and skirts can be worn as outerwear. Just throw a blazer over.
Finally, lingerie that has NO lace and other frilly adornments.

Did you Know?
Bordelle was commissioned by Swarovski to showcase unique creations for Luisa Via Roma, a premier luxury retailer.
In addition to lingerie, Bordelle creates various accessories such as cuffs, bracelets and other "unmentionables."
Bordelle was first conceived in 2009 by Alexandra Popa, who then commissioned designer Javier Suarez.

Where to Buy
The Bordelle collection can be found throughout the world at high-end retail stores such as Selfridges and Faire FrouFrou as well as various websites.

See our picks for Best Sexy Lingerie
Shop Bordelle Lingerie