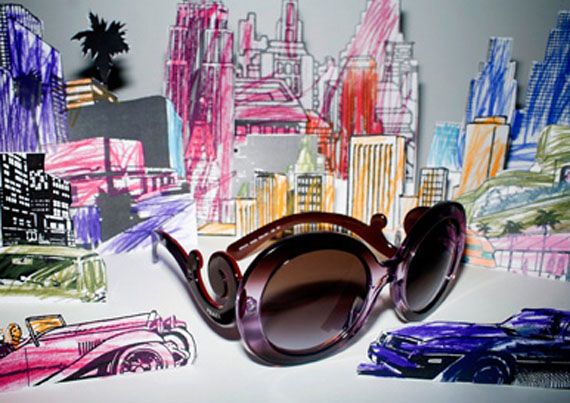 Photo Courtesy of Prada
Prada is releasing two new pairs of eyeglasses in the second phase of its Minimal Baroque Range. The new glasses are making their debut in conjunction with a series of eight photographs that feature the oversized and intricately detailed frames. The photographs were chosen with VogueTalents, a Vogue Italia supplement that celebrates new talent in fashion and can be found in a digital platform at Vogue.it.
The glasses are in the same styles that were shown on the runways in Milan and Beijing, although in updated versions that have rococo coils and either on the arms or the front of the glasses. These latest additions to the Minimal Baroque range can be found in all
Prada
stores around the world, as well as select optical boutiques.
The curlicue-covered eyewear also feature a new color palette and gradiated color ways and transparencies. The glasses are the second phase of Prada's new approach to eyewear. The first phase featured hand-drawn illustrations of the limited-edition deluxe version of the glasses to show the uniqueness of the project, while the second phase uses photographs of the glasses in pop-comic styled settings.
The second phase shows the new additions to the Minimal Baroque range in still life images from staged poses to ad hoc arrangements and even nature scenes, all with different color palettes. The new images include works from artists Federica Di Giovanni, Kuba Dabrowski, Ciraudo Majola, Mattia Buffoli, Rosi di Stefano, Tassili Calatroni, Tatiana Uzlova and Tomas Nogueira.