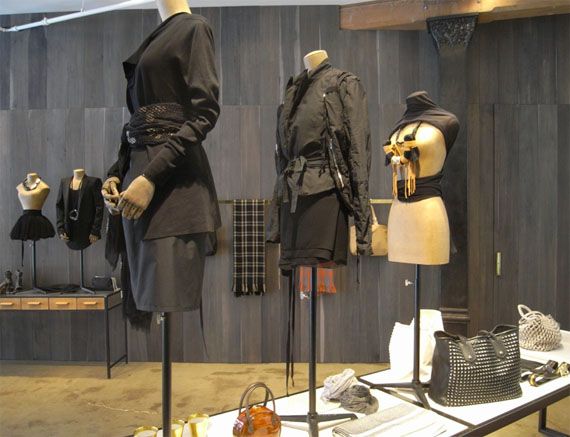 Ever since maverick-minded boutique Number (N)ine shut its doors in 2009, supporters have eagerly awaited label director Al Abayan's next act. Last month, the visionary Abayan ended the anticipation with the opening of Patron of the New, a Franklin Street store developed in partnership with entrepreneur Lisa Pak.
In a city swiftly loosing its leading fashion identity, Abayan is counted as one of New York's few true fashion discerners, and sure enough, his latest project is a game-changing venture. The scale of the shop's 3,000-sqare-foot space is astounding upon first impression, and its stunning customized furniture houses different quadrants of products. In fact, with the exception a few pieces in his French '40s room, Abayan's fingerprint is on every inch of the store.
"I did all the interiors," he explains. "It represents me. And the feel is my world, everything that I would wear." Abayan's world is the insider-insider's introduction to many undiscovered and unexpected brands. Kron by KronKron, Gaza, Ronald Pineau, Denis Colomb, Establishment and Reinhard Plank are some of the obscure labels from countries like Iceland and Japan that will draw you in with their unique aesthetic and thoughtful selection. "We want to keep it unknown and brands that aren't so developed," he confides of the selection process.
Shoe lines such as Benoit Méléard or Rodolphe Menudier are recognizable revivals of '90s success, as are Nicolas Andreas Taralis and Thimister — both of which define the store's identity if going by the deep buy. Taralis and Thimister are two of the best talents currently working in Paris, and it's only fitting that the timeliness of their second acts coincide with Patron of the New's aim to celebrate and help resuscitate "brands that depreciated over time or that didn't sell well."
But Abayan's wishlist also includes established names like Azzedine Alaia, Hussein Chalayan and Thierry Mugler, the latter two will be in the store for fall. "We want to show [them] in new and exciting ways," Abayan explains. One of the most exciting features of Patron of the New is its lack of formula.
It possesses elements of darkly romantic stores such as Assin in Sydney, Laser in London and Atelier in
New York
, but also exudes a warm atmosphere by merchandising beyond the clothes. Shoppers will come upon Baccarat and Lalique glassware behind a tall black cabinet that sits on the right wall of the entrance. Doggie toys, baby separates and rubber plant pots are casually strewn throughout the store. And, if that's not enough, there's also a stunning shoe salon with a slopping runway, a downstairs VIP room and space for hosting various events.
Despite this undefinable versatility, Patron of the New is more than a concept store. One gets the sense that Abayan is in fact picking things up along the way, but with such good taste, everything will always fit.
Find out about more global fashion trends at
JC Report
.