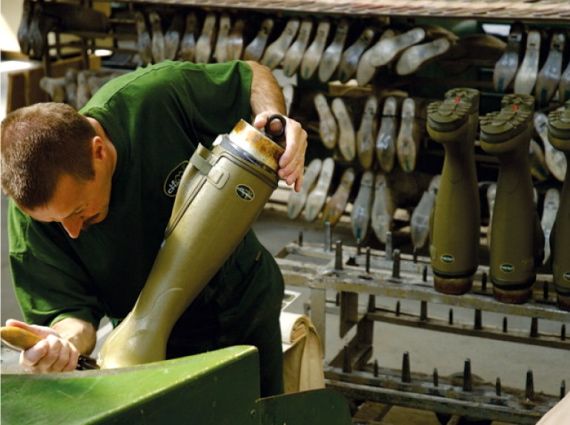 Photo Courtesy Le Chameau
Now that he's back from the honeymoon, there's one item of essential equipment
Prince William
can't do without at his cottage in Northern Wales: his Le Chameau Chasseur Wellingtons.
The Range Rover of rubber boots, each pair of Le Chameaus is handmade by a single boot maker in Pont d'Ouilly, France from start to finish using only 100 percent natural rubber. Besides forming an excellent barrier to water, natural rubber offers a high resistance to wear, cutting and tearing, and results in a much better fit and a more comfortable boot all around. No wonder they've been a favorite of aristocratic sportsmen since 1927.
Le Chameaus, priced at about $429 per pair, are lined with the highest quality full-grain, glove-soft calf leather which prevents that clammy feeling and heat buildup other rubber boots are prone to. Many models also feature a full-length proprietary waterproof zipper making them extremely easy to put on and take off, while the soft, but aggressive,
tread grips almost any surface.
It takes nine months of intense training to become a
Le Chameau
boot maker and acquire the unique skills which have been passed down through generations. You don't have to be royalty to appreciate that.