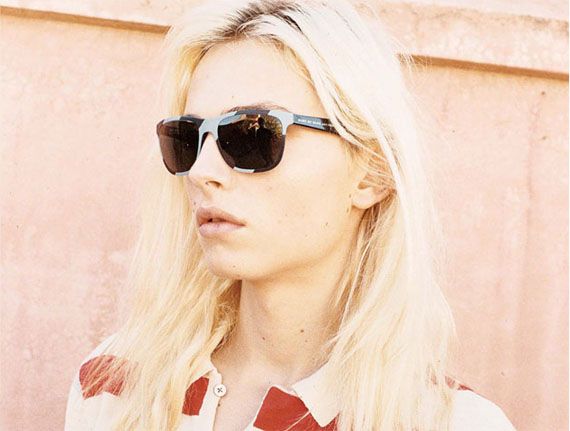 Photo Courtesy of Marc by Marc Jacobs
With the hot summer sun hanging high in the sky, there's no better way to protect your eyes than with
sunglasses
. These luxe shades provide more than just protection, they also make the perfect accessory to complete any summer look.
TAG Heuer
TAG Heuer Avant-Garde Eyewear's CLUB collection celebrates color, with sunglasses in this season's hottest hues. The newly added purple color will take you through summer to fall and into winter seamlessly, making the best possible addition to your wardrobe. Not only is the iconic sporty eyewear stunning, they also feature polycarbonate shield lenses for lightness and shock-resistance. They offer 100 percent UV-A and UV-B protection, making them great for everyday use (pictured: $335).
Who is wearing them?
Tom Cruise and Maria Sharapova
Derek Lam
Derek Lam sunglasses are modern, yet vintage-looking frames available in sizes that are neither too big nor too small. The classic frames come in both women's and unisex, and work with your style - whether it's boho-chic or preppy. The frames offer 100 percent UV protection, are prescription-ready, and are handmade in Japan (pictured: $275).
Who is wearing them?
Eva Mendes and Rachel Zoe
Chanel
The 2011/12 Autumn-Winter Prestige Collection designed by Karl Lagerfeld revisits the iconic Chanel chain, found most memorably on classic Chanel handbags. In the new sunglasses collection, the chain is woven with a strip of lambskin to form the temples and is on frames including butterflies, cat-eyes, oversized film-star square lenses or aviator. Longtime Lagerfeld muse Claudia Schiffer is the face of the new eyewear campaign.
Who is wearing them?
Lily Allen, Lauren Conrad and Nicole Richie
Marc by Marc Jacobs
Marc by Marc Jacobs provides high quality sun protection for the eyes in a variety of styles, from vintage-inspired oversized frames to aviator styles. The wide variety of frames and color options makes them ideal for any face shape. The luxury eyewear collection from Marc by Marc Jacobs is a little easier on the pocketbook than the Marc Jacobs collection. The Marc Jacobs signature can be found on the arm of each stunning frame, giving them an extra hit of style (pictured: $120).
Who is wearing them?
Halle Berry, Leonardo DiCaprio and Britney Spears
Prada
For fashionistas not afraid to be bold, Prada's Minimal Baroque sunglasses collection has just added new colors. The boldly shaped eyewear draws its curlicue details from Baroque designs, making each pair unique and drawing focus to the face. In addition to the curlicues, the collection also involves unique cat-eye shapes and multi-colored frames. The 60s style frames and heavy-handed decoration gives a touch of whimsy to a summer's day (pictured: $290).
Who is wearing them?
Selma Blair and Gwen Stefani