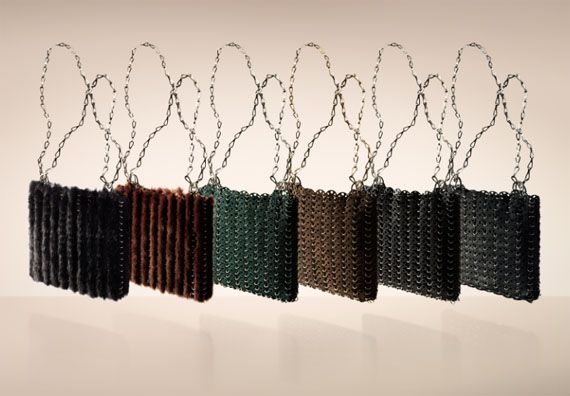 Classically known as a rebellious
fashion designer
of the 1960s, Paco Rabanne is ready to reclaim his relevance in today's fashion scene. The brand debuted an eagerly anticipated spring 2011 relaunch aptly named le 69 Paco Rabanne, an edgy collection of handbags that resonate his shocking signature style. This fall, the house continues to produce innovative, alluring handbags that are not to be missed.
In the 60s, Rabanne pushed the limits of costume design with his use of hard-edged materials and seductive silhouettes. Once referred to as the 'metal worker of fashion' by Coco Chanel, he earned international reputation for his nervy designs: metal-linked plastic disc dresses, outlandish sun goggles and plastic jewelry in bold primary colors.
His highly coveted chainmail dresses were uniquely made of small plastic tiles linked together by chains and were famously worn by the likes of Elizabeth Taylor, Audrey Hepburn, Brigitte Bardot and more. Undoubtedly, the costume designer, also famously remembered for outfitting Jane Fonda in
Barbarella
, inspired club culture and defined chic nightlife of the time.
Today, his brand is steaming full force ahead with a new collection of stunningly futuristic bags that shine like the sparkle of a dance floor and mimic the liberated swagger of a sophisticated jetsetter. The shape and structure of the bags are fun, sexy and feminine — much like his glamorous muses from years ago.
Made in France by skilled artisans, the handbags are made of matte suede, vegetal leather, quirky rubber, shimmering metallic and rare stingray variations. They come in inky saturated autumnal hues like copper brown, malachite green, rich wine, pink powder, caramel and slate gray. And of course, everything is magnificently melded together by shimmering iconic metal chain straps and links.
Particularly noteworthy is the glossy mink option — homage to a retro moment when Rabanne irreverently knitted strips of fur together and mixed in assorted materials to alter the public's perception of fur at the time. Today, the immaculate mink handbag defines luxury and modernity with its unexpected sensations and irresistibly strokable texture — a must for the luxury lover!
To further entice today's high-end customer, the brand also collaborated with London-based accessories designer and stylist Judy Blame, as a Paco Lab guest designer for the brand. Blame infused exciting elements of nickel-plated aluminum, punkish hybrid adornments and dangling chains to add heavy metal edge to his improvised limited-edition pieces.
Among the flashy decorated handbags in the collection, Blame also produced inventive wearables, including a massive metal cuff bracelet and an impressively elaborate bib necklace with enough flash and zeal for even the most brazen jewelry connoisseur.
Le 69 Paco Rabanne collection starts at $1,200 and up and are available at Barneys New York and specialty stores. Judy Blame collection prices available upon request.