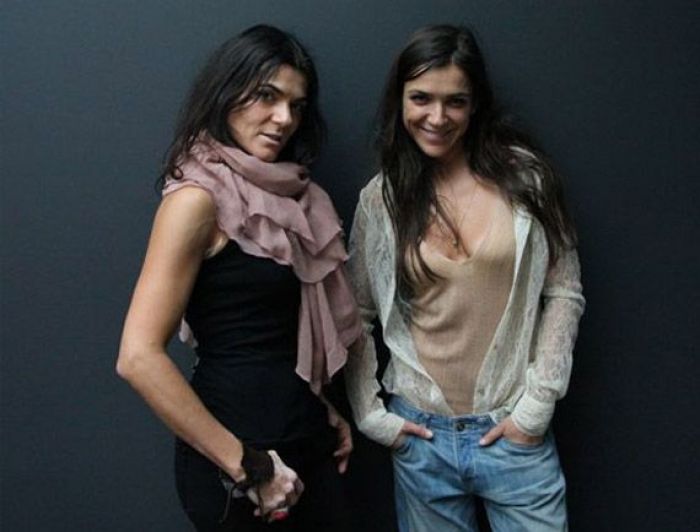 Photo Courtesy of Sorelle Firenze
In my time in
New York
, I've lived in a walk-up tenement, a Tribeca loft, and now an 1880s-era Brownstone. One trait has always stuck with me throughout my moves— a lack of organization. Whether I'm working with a shoebox-sized room or a giant walk-in closet, I've never been able to keep my living area tidy. Chalk it up to my excessive
shopping habits
, but somehow my shoes and bags have always been in piles and my closet rod stuffed to the max with wrinkled clothes.
When I realized I was wearing the same clothes over and over— just what I was able to see sticking out of my closet— I decided it was time to call in the pros. Enter the Abbatemaggio sisters: Monica and Barbara, and their patented
Sorelle Firenze
("Sisters of Florence") Closet. The designer and celebrity stylist ladies have turned their popular Tribeca boutique into a fashion/home consultancy, helping busy customers make the most of what they have in their closets.
I was feeling embarrassed when I set an appointment with the sisters, afraid they would look at my poorly laid-out closet and shake their heads at me in fashion shame. The exact opposite was the case. Monica and Barbara are some of the most fun ladies I've ever met in the city. Both insanely style-savvy and with a gifted eye toward making things work, I spent an amazingly delightful day with the girls as they pulled apart my closet piece by piece and put it all back together.
"Women are so busy these days that they forget to dress in a way that will make them appear and feel beautiful, sexy and powerful," says Monica Abbatemaggio. "We see closets filled with designer labels but clients who are clueless about how to put things together." Guilty.
They started by putting a sheet down and literally emptied everything out onto my floor. My room was filled with piles and piles of clothes that I could not believe fit into my lackluster closet. I was seeing purses and skirts I hadn't laid eyes upon in years.
The sisters reorganized everything back into my closet by color. Because most of my shelves were reserved for non-clothes items like cosmetics and towels, they found other places for these objects to make room for what I needed to see upfront. The miracle of their work was showing me that there was a place for everything. And as long as I put things back where I found them, I could keep the space organized.
I didn't even have to buy any crazy storage systems. My only cost: they recommended I buy a laundry hamper instead of keeping it in a bag on the floor. I have about a hundred tote bags from various events. They helped me choose the essentials and store them all in a giant bag. I also tossed all the dust bags I've been holding onto for years. They just hide stuff so you can't see what's inside.
You've heard if you haven't worn it in two years, get rid of it. I'm going to up this and say if you haven't worn it this season, get rid of it. The sisters helped me purge some old shoes and bags. Every time you buy something, get rid of something in your closet. Buy a dress, donate a dress. Walk bags to local resale shop. Save luxe items for a consignment shop. Donate everything else and get a receipt for taxes.
And then the fun part— styling. The sisters pulled out a series of new outfits that a.) I would never have put together on my own and b.) pulled out some of my most forgotten items. Out of the mix and straight into a lookbook: a green Clu top, green lace skirt, Thomas Wylde skull bag and brown short boots; a white and black sculpted Loeffler Randall dress with a 50s crystal jewelry set; a Boy by Band of Outsiders striped button-down over a casual jean mini skirt and a long jade and coral necklace. There were no rules to the matches. They reminded me of what nice pieces I have in my collection and put together outfits made of things that simply looked good together. They left me with my brand new closet and I felt armed with a powerful wardrobe and inspired to make the most out of it every day.