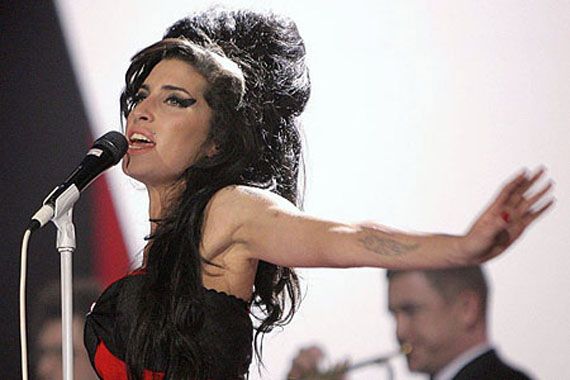 In music, as in fashion, there are trends, fads, movements and styles. Although chameleons like Lady Gaga, Rihanna and Beyonce have made careers out of switching up their looks, the effect can at times feel more like a competitive gimmick than a sincere aesthetic expression.


In contrast to the revolving door approach of her pop music brethren, Amy Winehouse remained dedicated to a look that defined her sound, style and raucous personality. Despite her premature death, Winehouse has left her signature on both the music and fashion industries alike.

Although she first became known for her powerful voice and neo-soul sound, the British singer's musical appeal was just as quickly rivaled by her distinctive look. Her bouffant and dramatically winged eyeliner were aesthetic hallmarks from the stage to the sidewalk, and she soon became synonymous with her own brand of effortless retro-modern rock. When asked about her fashion inspiration in Harper's Bazaar, Winehouse simply demurred: "I just dress like it's still the '50s."

With her ascending musical success, Winehouse's look also found its way into glossy editorials, event appearances and even runway tributes, as in Karl Lagerfeld's 2007 Chanel presentation. (No stranger himself to the value of a signature look, Lagerfeld gushed of the singer: "She's not only a muse; she's a genius.")


But even as her life became a battlefield of tabloid fodder, Winehouse's consistent style never wavered. She continued to tout edgy designers like Preen and Arrogant Cat, worked with Fred Perry on two namesake clothing collections and never appeared without her signature beehive coif.

Despite Winehouse's evident contributions and inspiration, the fashion industry has reacted divisively to her death. Fendi issued a statement lamenting the loss of "a unique talent that in many ways transcended music, fashion and culture," but few other houses have remarked on the singer's demise. Meanwhile, WWD declared that Winehouse "was never going to be an enduring inspiration to the world of fashion." Such backhanded rejection hardly befits an industry plagued by its own roller-coaster of struggles and successes, but perhaps that's just the fickle nature of being a fashion muse.

Winehouse will no doubt be remembered for her troubles as well as her triumphs, but her indelible signature will ultimately live on in both song and style.

This post originally appeared at JCReport.com.