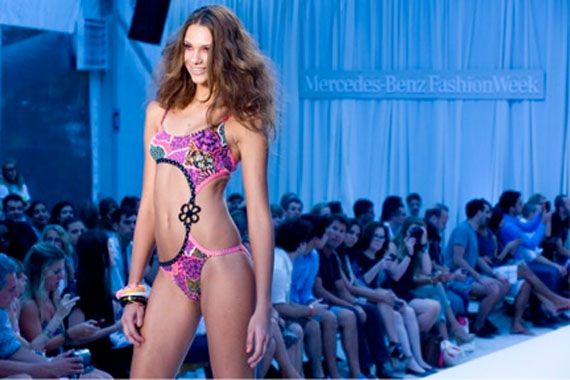 Photo Credit: Walter Grio/Shoot For Change
There is a little less heat in Miami, Florida since the
Mercedes-Benz Fashion Week
packed up and left, leaving behind our longing to acquire all the latest trends in swimwear. The buzzwords during this week echoing throughout the shows were "luxurious," "glamorous" and "jetsetter." Here is a recap of the final few faves from the final few days during a week I like to embrace with the theory that less is more! Try not to drool.
Stunning, breathtaking and innovative are the words I would use to describe the new collection from Delores Cortés. Her use of such vibrant colors screamed out loud, demanding my attention. I was equally impressed with the unique designs of the swimsuits. With 50 years of experience behind this designer, Cortés has sustainability in the industry because she obviously knows what she is doing and what a girl wants. The runway show itself was like watching the bright colors of sea life swimming by. Bravo Cortés, encore!
Speaking of innovative design,
Aqua Di Lara
made quite a statement with their sophisticated 2012 masterpieces. Again, we see the vivacious hues, but I was more impressed with the subdued colors for this line. And even from a distance, I took notice of the fabrics. The lovely Creative Designer, Reyhan Sofraci, is known for her use of high quality European fabrics which no doubt played a role in her award as Fashion Designer of the Year 2007 from the prestigious Institut de Design Montréal. Sofraci is definitely moving in the right direction and I look forward to more fashions from this young designer.
When A.Ché came sashaying down the catwalk, I wanted to stand up and shout "I am woman, hear me roar!" Yes, very tribal and exotic were the fabric patterns and designs. "Animals and exotic elements are the inspiration," explains designer Amanda Ché. "The prints have features of snakeskin, tiger stripes and exotic butterflies, with a solid palette of rich and bold colors. Every solid color matches back to a print, promoting individuality and power of creativity for the consumer, which is a traditional attribute of the A.Ché brand." Personally, I really admired her attention to detail.
I often like to save the best for last. Perhaps it is my way of leaving you with food for thought to conclude with a favorite. If the new collections have a commonality of vibrant colors and exotic elements, then Caffé Swimwear emanates this with the utmost elegance and grace. The swimsuits were feminine but not gaudy. The designer, Paula Saavedra, efforts in "elevating beachwear to high fashion status" was clearly exhibited, and the world has taken notice. In only seven years, the luxury brand of Caffé Swimwear is now found in 38 countries.
So now the tough choices begin. Which ones must I add to my collection for 2012? I know I cannot go wrong, as another common element is high standards of quality and fit from all designers at the Mercedes-Benz Fashion Week. For women in bikinis, those requirements come first! To see more from Miami Fashion Week, visit
Miami.MBFashionWeek.com
.