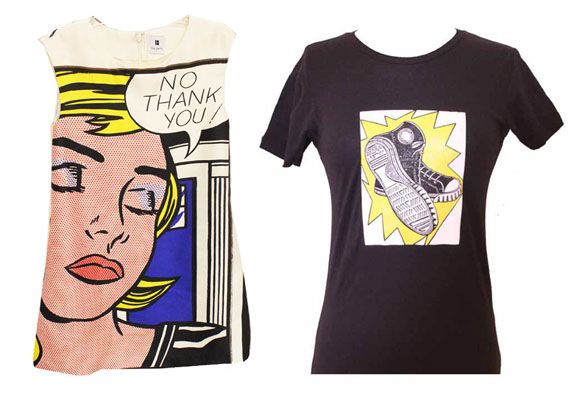 Photo Courtesy of Lisa Perry
You could buy a Roy Lichtenstein work at auction, a print in a gallery, or, starting this week, you can
wear
the works of the pop art giant. Lisa Perry has announced a new limited edition capsule collection approved by the Estate of Roy Lichtenstein. The dress collection features three of the
artist's most iconic images
: "Spray II," "No Thank You" and "On" in a limited 99 piece collection. Each dress retails for $2,000.
The collection also includes T-shirts and tank tops with Lichtenstein images: "Hot Dog with Mustard" (1963), "Compositions I" (1964), "Keds" (1961), and "On" (1962). The shirts are $75.
Roy Lichtenstein died in 1997 but his legacy lives on. He's most known for his comic-book-inspired pieces including his 1964 painting "Ohhh... Alright..." which sold for over $42 million at auction in 2010.
The collection is being sold at Lisa Perry's Madison Avenue boutique (976 Madison Avenue) and currently graces the store window. The pieces are also sold online at
LisaPerryStyle.com
.
"On" $2,000
"Spray" $2,000
"On" $75
"Compositions I" $75
"Hot Dog with Mustard" $75
"Hot Dog with Mustard" $75