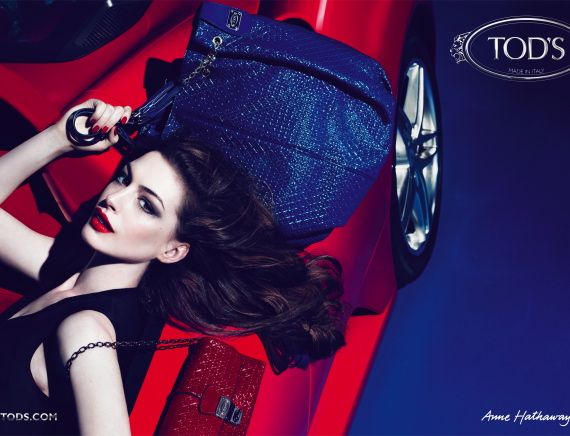 Photo Courtesy of Tod's
Anne Hathaway has signed on the face of Signature Collection, a new line of handbags and small leather goods from Italian
luxury label
Todís debuting this season. Hathaway will appear in a special ad campaign for Signature. It will be shot by Mert and Marcus in London with a Ferrari for a backdrop, to debut in October fashion mags.†
The Signature collection revolves around the pebble motif of the iconic Todís 'gommino' driving moccasin, with a color palette ranging from powerful tones of deep red, black, electric blue, fuchsia and violet to subtle shades of lavender, beige and cream.††
The ad campaign was shot by famed photographers Mert Alas & Marcus Piggott and styled by Karl Templer under the creative direction of Fabien Baron, who drew inspiration from the work of Guy Bourdin and Andy Warhol. The images are designed to "capture the essence of an innovative, more provocative side of Todís."
"The Tod's brand symbolizes a commitment to quality, style and classic modernity," Hathaway, a longtime fan, says. "These are bags that age with you and never let you down. The designs are classic and the materials are of the highest quality. As a result, they don't grow older, they only grow better just like a woman."
"I am delighted that Anne is the face of our new Signature Collection," adds Todís Chairman Diego Della Valle. "I am a big fan of her work Ė I believe she is a wonderfully gifted actress.†She is also a woman who combines traditional elegance and beauty with a lively, modern spirit. In this respect she is a perfect fit with Todís, which prides itself on bringing together the traditional craftsmanship of Italian artisans with the best in contemporary design." The Signature Collection will be available in stores worldwide in October.†Visit
Tods.com
to see more.