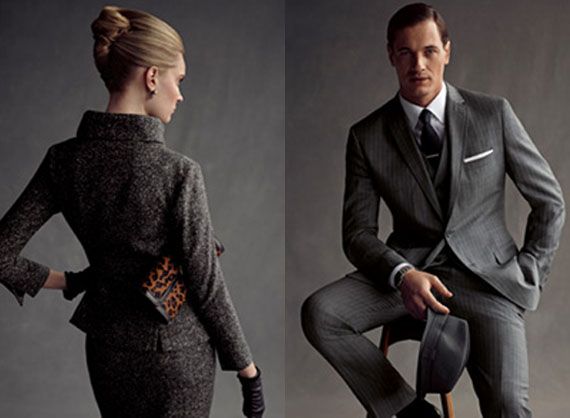 Photo Courtesy of Banana Republic
Janie Bryant's MadMen Collection for Banana Republic Hits Stores to an Enthusiastic Audience.
AMC's award winning drama, Mad Men, may not be on our screens this summer, but the fashion conscious will still be able to get their fix as Mad Men costume designer, Janie Bryant's, collection for
Banana Republic
goes on sale in U.S. stores today.
The collection includes men's and women's wear, shoes and accessories and is very true to the show's aesthetic. While I must admit I am not mad about the leopard print bags and belt – there is something a little too Jersey Shore about leopard print handbags – the rest of the collection is stunning. Of the women's collection the grey woolen suit is to die for, but it is the men's collection that really impresses. Featuring, among other things, a tuxedo, two suits, an overcoat, cardigan, hats and ties it opens up the vintage look to men who may have difficulty finding true vintage in their size.
To see more pictures of the collection, check out the Banana Republic Facebook page or see
BananaRepublic.Gap.com
.
This post originally appeared at
CityRoom.com
.