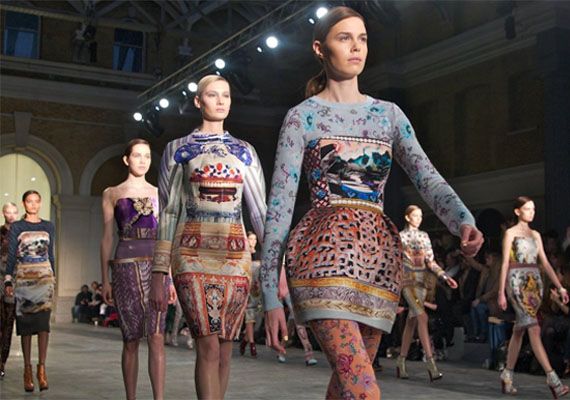 Photo Courtesy of London Fashion Week
When it comes to fashion,
London
is a city that embraces the visionary and the eccentric. Although heritage brands like Burberry and Pringle of Scotland draw in editors and celebrities, itís the fresh infusion of new talent that truly gives the ON and OFF schedule line-up that special buzz.
The spring/summer Ď12 shows at
London Fashion Week
are no exception, introducing a batch of up-and-comers that reaffirms the cityís status as an incubator of innovation. Hereís our short list of the ones to watch this season.
Sister by Sibling
Launching this s/s Ď12 at London Fashion Week, SISTER by SIBLING is the companion womenswear range to menís knitwear label SIBLING. Designers Joe Bates, Sid Bryan and Cozette McCreery have developed a cult following with their creative knitwear designs, which integrate a strong fashion aesthetic with a side dish of British humor.
This season, the collaboration-inclined trio have teamed up with Japanese illustration artist Yuko Kondo to transform imaginative animations into captivating designs like a twisted Tattoo/Skeleton Carousel and a Dachshund Hot Dog logo. SISTER by SIBLINGís new collection looks toward Britainís oceanside and piers, boardwalk funfairs and the fit boys that spin the ever-popular Waltzer ride for inspiration.
Saloni
No stranger on these pages, Central St Martins alum Saloni Lodha ran pop-up shops in Hong Kong, where she sold artistic collaborative collections, before embarking on her design career. Inspired by Londonís innovative spirit, the India-born designer will make her second LFW appearance this season as the winner of the British Fashion Council / Elle Launch Pad.
French romanticism is the muse behind her eponymous label, and its feminine silhouettes, handcrafted prints and draped fabrics are a hit with fans like Poppy Delevigne, Cory Kennedy and Charlotte Dellal. For her s/s í12 presentation, however, things will head east as she unveils designs inspired by Japonisme and Ď30s Shanghai.
Jordan Askill
Now in his second year, Australian designer Jordan Askill has received consistent accolades for his highly conceptual jewelry collection. Though heís now known for detailed pieces (a galloping horse cuff, for instance), his roots are actually in clothing design. After honing his ready-to-wear skills at Ksubi in Sydney, followed by a three-year stint at Dior Homme in Paris, Askill made the successful transition into jewelry with the launch of his label in 2011. His hotly anticipated s/s Ď12 presentation will likely include short films and video installation collaborations alongside his sculptural creations.
Claudia Catzeflis
Fellow Central Saint Martins grad Claudia Catzeflis received both her BA and MA from the prestigious design institution before striking out on her own. With a professed love of iconic fashion houses like Chanel and YSL, Catzeflis is intent on creating a lasting statement rather than a fleeting trend. Her unique eye is evident down to the hand-worked textiles and considered details of her clothes, all of which speak to an appreciation of quality and distinctiveness. For her debut collection this s/s Ď12, she channels everythng from í70s resort glamour to Madame Gr?s.
Elisa Palomino
With a resume that includes Moschino, Roberto Cavalli, Christian Dior Haute Couture as well as roles as the former Head of Studio at John Galliano and, more recently, Vice President of Design for Diane von Furstenberg, Spanish designer Elisa Palomino is a veteran of the fashion industry. Boasting an MA from Central St Martins, Palomino presented her first collection during New York Fashion Week autumn/winter Ď10, which was purchased in its entirety by Dolce & Gabbana.
For her London Fashion Week debut collection, dubbed ďA Fairy Dance,Ē Palomino has taken inspiration from the nymph-obsessed paintings of the Victorian era and will feature structured black Victorian shapes, taffetas mixed with leathers and opulent headdresses described as ďan explosion of birds and butterflies all in pre-Raphaelite metalwork.Ē
This post originally appeared at
JCReport.com
.