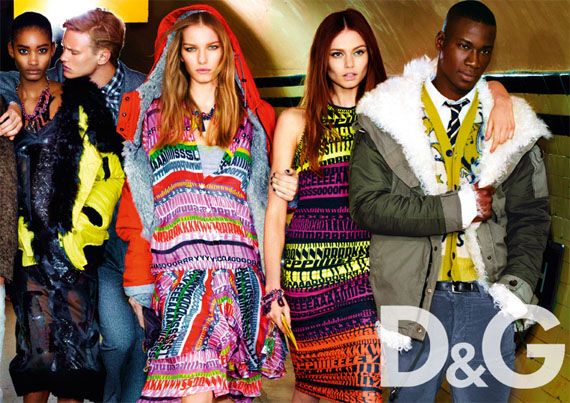 Photo Courtesy of D&G
A rumor has been floating around the fashion world since March that Italian
designers Dolce & Gabbana
would put an end to production of their Diffusion Line, a rumor that was confirmed Thursday, September 22. The spring/summer 2012 collection shown at
Milan fashion week
will be its last.
Despite troubles in recent years — the designers were prosecuted in 2009 for tax evasion, but a judge decided in April of this year that there was not enough evidence for a trial to proceed — the decision does not appear to be a financial one. Indeed, it has come as a shock to some retailers as the D&G line, which launched in March 1994, has outperformed the main line in important Asian markets.
Instead it seems that while other designers are courting the lower end of the market, Dolce and Gabbana are only interested in high-end D&G merchandise. Dolce stated that they had always looked to the Chanel Maison as an example, while Gabbana added, "we think that in order to work well, to be in the market for a long time, and to leave something after us, there must be only one brand and not two."
Indeed it has been reported that the consequences of having two brands instead of one was at the forefront of the decision. Italian retailers and sources close to the designers said that the two lines were "cannibalizing" each other because they were too close in price.
This post originally appeared at
CityRoom.com
.