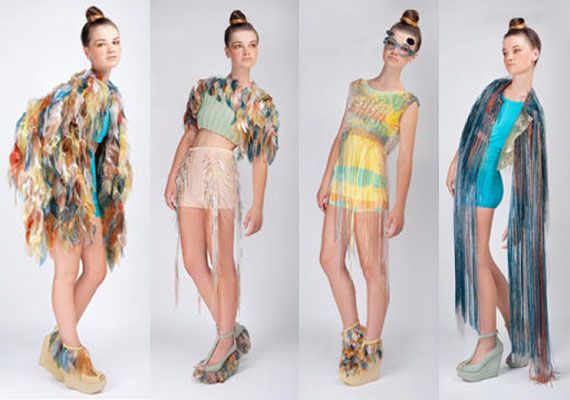 Photo Courtesy of Jane Bowler
Jane Bowler is illuminating
British fashion
with her sustainable ensembles. Challenging fashion ideals, the young textile designer infuses energy into discarded everyday goods, transforming inert objects into colorful style conceptions. Combining renewal and sophistication, Bowler's approach is both an aesthetic and a conceptual inspiration—and the fashion industry is taking note.
Influenced by Issey Miyake's engineered creations, Bowler liberates recycled materials from their primary function and transforms them into eccentric displays of fashion. Experimenting with dying techniques, the Royal College of Art graduate creates her own color solutions and hand dyes all her materials. Scouring charity shops, car boots sales and the Hackney scrap, she gathers sustainable products such as plastics and rubber for reworking.
Using compressing mechanics with heat, Bowler then imprints her textured rubber flooring into shower curtains, resulting in her signature PVC fringe and geometric patterns. Free of stitching, seams are ultrasonically welded together, reinforcing beauty and flawlessness into every garment.
Bowler's first collection, "Fusion," which combined Japanese straw coats and the classic Mackintosh, drew a following among London's most influential tastemakers, including celebrated photographer Nick Knight. But for s/s '12, she was selected and presented as part of Blow Presents' creative showcase over
London Fashion Week
, a platform that testifies to the young designer's growing presence. Depicting the mythological story of
Icarus, the collection—appropriately titled "Fall from Grace"—consisted of body-con latex embellished with a rainbow of PVC plums that cascaded into pastel and metallic fringe as well as turquoise and peach modern separates. As with all of Bowler's work, each unique piece is an objet d'art. And yet the potential for commercial divergence is foreseeable. Bowler's aesthetic and approach is about rebirth after all.