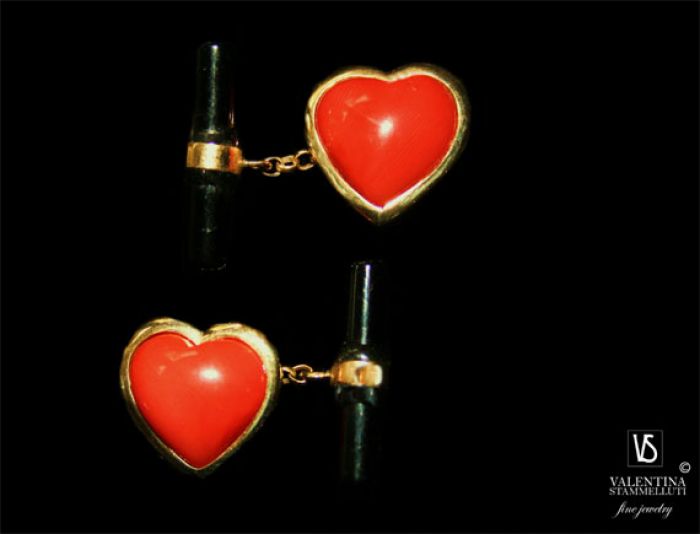 Photo Courtesy of Valentina Stammelluti
This is the year for fashionable gentlemen to wear their hearts on their sleeves with this emotionally charged pair of
cufflinks
by Italian jewelry designer Valentina Stammelluti. You'll be seeing red once you FallinLove! 
Just in time for the holiday season, the handmade, heart-shaped pair of cufflinks is so new that this is its first public appearance. The limited-edition cufflinks are made of 18-karat gold, onyx, and real coral.
FallinLove is a statement, a commitment, and a form of self-expression that is both defining and elegant. The cufflinks are also a very exclusive item, as they are available only through Valentina Stammelluti currently. "It is time to show some love and to be open about it," said Ms. Stammelluti when asked what inspired her thought-provoking design. "It is a movement whose time is now. Real men have hearts."
It is a collaborative effort of craftsmen and artisans, as each of the VS offerings is handmade with 18-karat gold and genuine gemstones. All of the VS cufflinks are limited editions produced on a per-order basis. Along with the FallinLove set, there are 15 additional pairs of cufflinks available.
When I asked Valentina if she would like to add a further comment regarding her work, she pointed to her website and requested that I use that same statement to express herself. "I believe, that in life, details make the difference. Even a tiny jewel worn on a cuff can give that extra embellishment, adding a touch of class and character, that little something to make you special."
The limited-edition FallinLove cufflinks are priced at £1,560, which converts to approximately $2,431. For more information, visit
ValentinaStammelluti.com
.