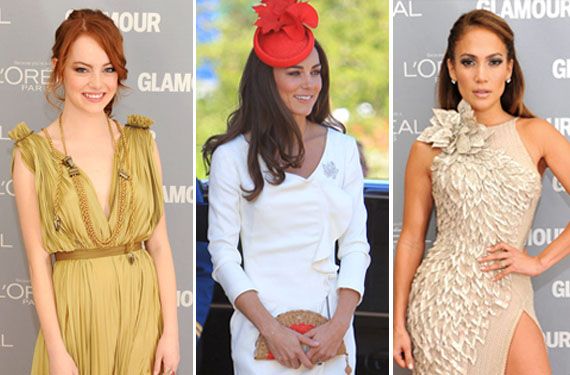 DimitriosKambouris/Getty/Macpherson/Gillis-SplashNews
Celebrity style in 2011 was really something to watch. From movie stars to singers, to royalty, these ladies stepped it up this year and showed why they deserved some recognition for their sexy, bold, and sophisticated fashion choices. E! Online has compiled a 'Top 10 Stylish Stars of 2011' list and we pulled a few of their coveted selections to see what makes these A-listers such fashionistas.

Jennifer Aniston starts out the top 10 proving that age is not an issue when it comes to wearing short skirts and bright colors. Jennifer Lopez comes in at number six with the same mentality: she only gets better with age. High slits and high fashion are both in her repertoire. Number three on the list is German actress Diane Kruger who kept it soft and sultry all year long. And number one is, of course, Miss Duchess of Cambridge herself, Kate Middleton. After her royal wedding, she has been the one to watch when it comes to elegant, risky, and gorgeous styles...and this is only the beginning.

To see the complete 'Best of 2011: Top 10 Stylish Stars of the Year' list, go to EOnline.com.
Photo Credit: Dave Hogan/Getty Images; INFphoto.com; Dave Hogan/Getty Images
Photo Credit: Dimitrios Kambouris/Getty Images, SIPA
Photo Credit: Getty Images/WireImage
Photo Credit: Splash News, Getty Images