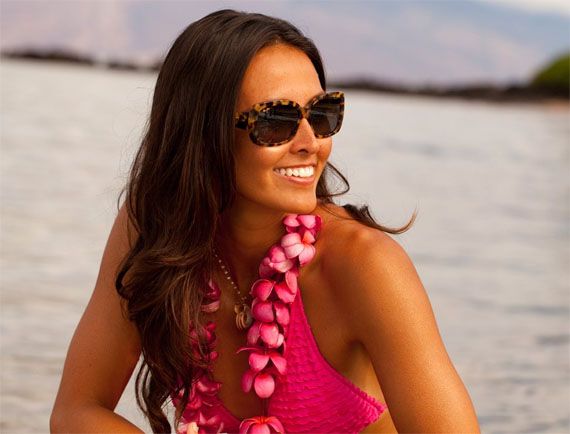 Photo Courtesy of Maui Jim
Your eyes require year-round protection even in the winter months and no one knows that better than the folks at Maui Jim. They have several lines of
sunglasses
for maximum protection designed specifically for your favorite activity, from hiking and running to boating and fishing.
We love the sleek and lightweight Pilot aviators in silver with neutral grey (They also come in gold with bronze lenses as well as gunmetal black with Maui HT lenses). The stainless steel shades are perfect for sports or outdoor activities while we prefer simply using them for everyday wear. The best part is they use Maui Jimís color-infused lens technology, PolarizedPlus2, which eliminates 99.9 percent of all glare along with 100 percent of harmful UV rays, leaving you with a crisp and clear view.
These polycarbonate glasses are crystal clear, made of ultra thin glass and are saltwater safe so now you donít have to worry about damaging your sunglasses while swimming in the ocean. Even better, Maui Jim shades come with a Clearshell silicone-based scratch coating to further protect the front and back of the lens.
How can you determine which lenses are best suited for you? Itís important to first figure out what type of weather you will be wearing them in. For example, if you are in bright, direct sunlight year-round, you should consider neutral gray lenses for the highest available light reduction that also provides magnified color and contrast.
If you are in full sun with overcast areas, be sure to check out the HCL Bronze and Maui Rose lenses, which are ideal for everyday fast moving sports. The Maui HT (High Transmission) lenses are best suited for environments where most lenses would be too dark, offering more contrast and color for early morning, late afternoon and foggy days.
Maui Jim has also recently introduced several new shades with fun names like Wiki Wiki, Coconuts, Lava Flow and Island Time. Donít forget to check out the sunglass cases and microfiber pouches to keep your new purchase clean and protected. Retail price for the Pilot sunglasses is $279. For more information, visit
MauiJim.com
.