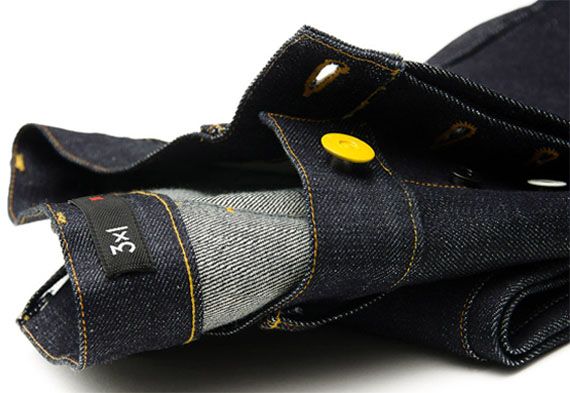 Photo Courtesy of 3x1
Premium denim
comes at a premium price, but how high would you go? Does $1,200 sound about right or a little much? At 3x1, that's the minimum for a pair of bespoke jeans.
3x1's creations aren't your average jeans, in case you couldn't tell that from the price point. This denim is made in New York City in small batches, using the highest-quality fabrics, by people who know how to stitch and don't get paid by the numbers. The careful manufacturing process hearkens back to the early days of denim production and is the brainchild of 39-year-old Scott Morrison, who knows a thing or two about premium denim. "There really isn't a factory in the world that produces that way. It's not very economical or efficient," he tells
Fox Business
.
Scott Morrison is an entrepreneur who has already founded two successful high-end denim lines in the past: Paper Denim & Cloth in 1999 and Earnest Sewn in 2004. With these wildly popular lines already under his belt, you would think that Morrison would go the easy way and manufacture his new jeans as cheaply as possible, with a high output. But Morrison wanted to do things a little differently.
3x1 (which gets its name from a type of weaving construction) produces about 22 to 30 jeans a day, all done by single-needle sewing machines. Morrison wanted the new denim line to be special, so that it's not just everyone wearing the same pair. He also wanted his customers to be a part of the jean-making process.
To that end, customers walking through the Manhattan retail store can see the clothes being made. 3x1 jeans are "limited edition" and already-made styles are only produced in small quantities of less than 24 and can be purchased at anywhere from $295 to $445 a piece.
In addition, customers can also make their own jeans by choosing from one of two options: the "custom made" option in which consumers can pick their fabric and hardware for $525 to $750 and the "bespoke" option which allows the customer to work with Morrison and his patternmaker to build a pair of jeans from the ground up and starts at a minimum of $1,200.
So who is wearing these bespoke jeans? Of course, celebrities, athletes and high-powered business executives are expected to be on the list. But there are also people who want their favorite pair of old or discontinued jeans remade, or those who are generally hard to fit (he cites a woman over six feet tall as an example).
Morrison explains that the denim itself is what drives up the price of the premium jeans. The fabric is sourced from all over the world and can cost up to $100 a yard. Still, he says that the project is viable despite the economy. "It's a tough market for everyone but there is a luxury market that still exists and, quite frankly, is pretty strong," he says. Visit
3x1.us
to see more.