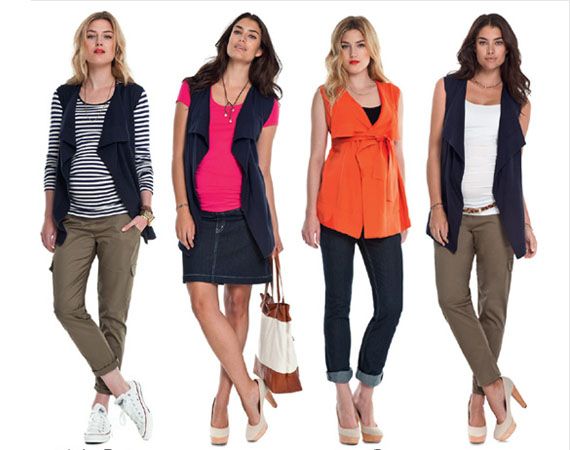 Photo Courtesy of Isabella Oliver
One of my best friends is currently six months pregnant, a state in life that sometimes brings bad stretch pants and over-sized T-shirts into the closet. Thankfully, fashion never fails in life's many situations. Whether pitching a tent in the Sierras or waving a Sun Salutation pose in hatha yoga, fashion can always be practiced, even when pregnant. Here are my favorite three brands for making the bump look bumpin'.

Prelegant

If one country could make pregnancy look chic, it'd be France. Prelegant, a new U.S.-based online retailer catering to pregnant women in need of elegant business clothing, imports apparel directly from luxury French designers. "More and more pregnant women are working longer into their pregnancy, or becoming pregnant later into their professional careers, often having to compromise quality and style because of limited professional clothing options and availability," says Frenchman Raphy Tolub, CEO and co-founder of Prelegant. Smartly-designed pencil skirts from Paris' Pomkin and tailored jackets from Parisian Seraphine with extended lapels make for attractive boardroom attire.


Isabella Oliver

Donned by celebrities such as Angelina Jolie and Jennifer Garner, Isabella Oliver has offered an extensive selection of maternity wear since 2003. Sleek, bright, and formfitting, Isabella Oliver's selections showcase their now famed "wrapping and ruching" designs. It's a look even non-pregnant women find attractive, as fabric holds and forgives in just the right spots. I'm a fan of the Modern Ruched Dress, a slimming choice with sculptural pleats and an asymmetric neckline. The Brit-based company has changed the look of pregnancy so much that even the Queen has noticed. In 2010, the company was recognized with The Queen's Award for Enterprise in International Trade, the UK's most prestigious award for business performance.

Hot Milk Lingerie

Should pregnancy mean the end of feeling sexy? Hot Milk Lingerie doesn't think so. For the Victoria Secret's consumer currently expecting, Hot Milk Lingerie provides a superb substitute with a wide array of seductive nursing bras, panties, nightwear, and camisoles. Celebrity clientele include the Kardashian clan and Kendra Wilkinson. Hot Milk, founded by two friends, Lisa Ebbing and Ange Crosbie, continues to garner international fans and reach. Hot Milk's charity initiatives span from New Zealand with the non-profit The Big Latch On, to Africa with Knickers for Africa. If global charity isn't compelling enough, one has to love the direct Q&A section of Hot Milk's website, which answers the questions of pregnant women worldwide, such as "Why can't I just wear a regular bra or an old, stretched one?" (A pregnant woman should not — traditional bras don't have room for the diaphragm to expand during pregnancy.)