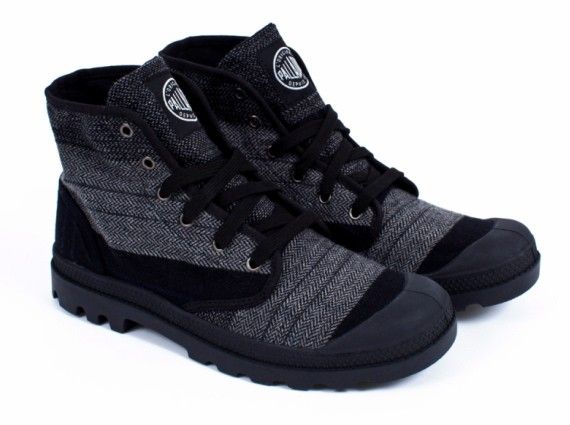 Photo Courtesy of Palladium
Renowned fashion designer Richard Chai has partnered with hip boot brand Palladium on a capsule collection for Fall/Winter 2012. Chai has put his spin on two of Palladiumís iconic menís styles which just debuted at the designerís
New York Fashion Week
show.
The
Richard Chai for Palladium
capsule collection will be launched at retail locations in October. Palladium was founded in France in 1920 to make aircraft tires; in 1947, after the end of WWII saw demand dry up, the firm put its expertise to use by making rubber-soled boots that were just as rugged and reliable. They soon became outfitters of the famed French Foreign Legion, establishing a legacy of adventurous exploration and earning fans like Pharrell Williams.
To complement his ďurban nomadĒ-inspired Fall/Winter 2012 menís ready-to-wear collection, Chai created his own versions of Palladiumís Pampa Hi and Pampa Tactical models. All feature Chaiís own custom fabrics including corduroy and felted wool, evoking elements of classic menís tailoring.
ďI love the idea of working with Palladium because of the history and heritage of their boots,Ē Chai notes. ďItís a real opportunity to take a 60-year-old classic design and have someone of Richardís talent create their own interpretation, looking through a completely fresh lens,Ē adds Barney Waters, VP of Marketing for Palladium.†ďWhen you blend the authentic heritage of Palladium with Richardís eye for modern menswear, itís a powerful combination.Ē Visit
PalladiumBoots.com
to learn more.
Courtesy Palladium