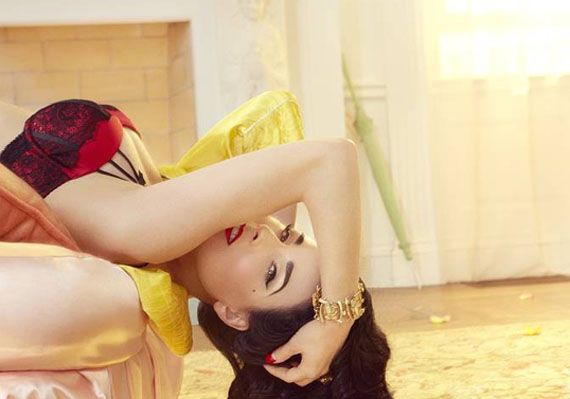 Photo Credit: Sheryl Nields
Dita Von Teese has always been known for her 50s style look and sensual burlesque performances, and now she's putting all that sex appeal into a new line of lingerie. Having formerly modeled lingerie for some of the
best fashion designers
like Vivienne Westwood and Jean Paul Gaultier, she knows what it takes to make those garments sell. Currently, her Von Follies line of vintage inspired pieces including stockings, over-wire bras, high waisted briefs, garter belts, and chemises, became available exclusively in Target Australia stores starting earlier this month.
The inspiration for the Von Follies line came from Dita's long fascination with lingerie, her own personal collection, and her experience working in a lingerie store. "From age 16 I worked in a lingerie store, and I had a very strong interest in the history of underpinnings and how styles changed from decade to decade. Even at age sixteen, I wanted to be a lingerie expert, so I did everything I could to learn about it! I started collecting vintage lingerie at a young age, and my love for it is what lead me to imitate pinup art of the 1940s, and that is what sparked my career as it is now."
It was also important to Dita that the line be for women of all shapes and sizes but still remain glamorous, sophisticated and feminine. Accentuating a woman's curves and silhouette was a big part of the design of the pieces, something she has become famous for doing herself. Learn more at
DitasDomain.com
.
See our picks for the
Best Sexy Lingerie