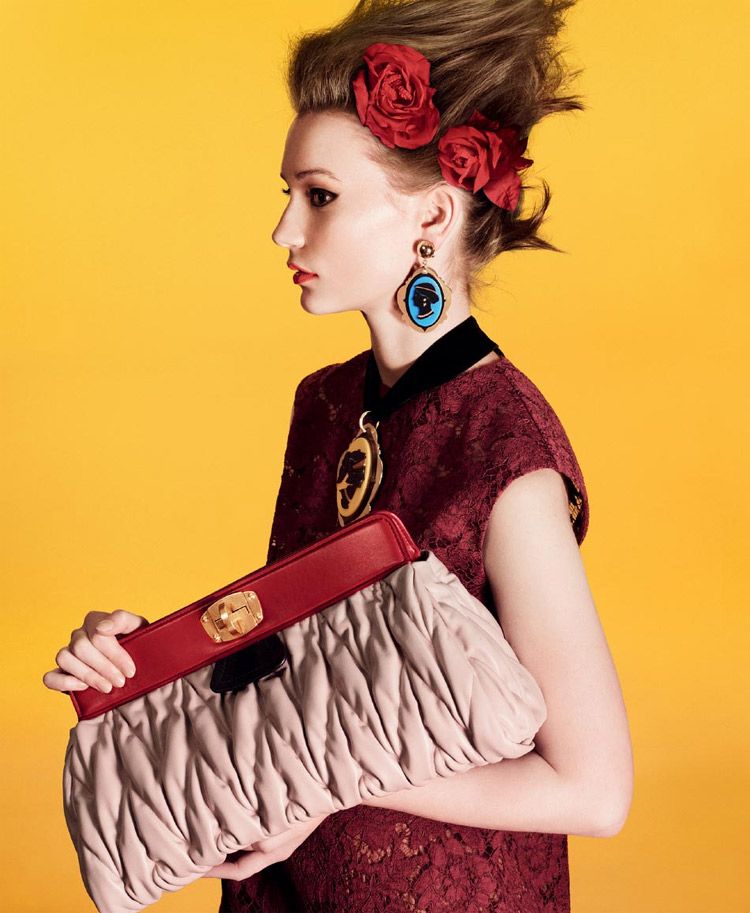 Photo Credit: David Sims for Miu Miu
The Miu Miu Spring/Summer 2012
fashion campaign
was shot by David Sims and centers around rising star Mia Wasikowska of
Alice in Wonderland
and
Jane Eyre.
Wearing prints mixed with textured prints and over the top super lady-like style, the campaign features the chameleon-like actress from several different angles in oversized accessories from clutches to earrings. Once again, Miu Miu is not for the fashionably faint of heart.
Although the color palette is fairly understated, floral prints and fancy laces manage to stand out. By layering full skirts with full jackets, the spring/summer collection looks fresh. With so many layers over skirts and the giant bows at the neck, the collection is reminiscent of some of the fairy tales that have taken over the entertainment industry on screens both small and large.
When the collection first debuted on the runway,
Vogue
reported that "There was the girlishness that we've seen elsewhere this week, but even younger than before, with full skirts and matching bra tops covered by little cloaks tied with velvet ribbons—all the innocence of Little Red Riding Hood but with red eyeshadow and wax-flattened hair implying that there's some definite wolfery going on here too."
For the campaign, Wasikowska's hair was pumped into a messy pompadour and then decorated with flowers, for an edgy take on feminine hairstyling. While there's nothing overtly sexy going on in the campaign, these definitely aren't your grandma's clothes; although the purse handles are certainly reminiscent of the white-haired roller set. Go to
MiuMiu.com
to see more.