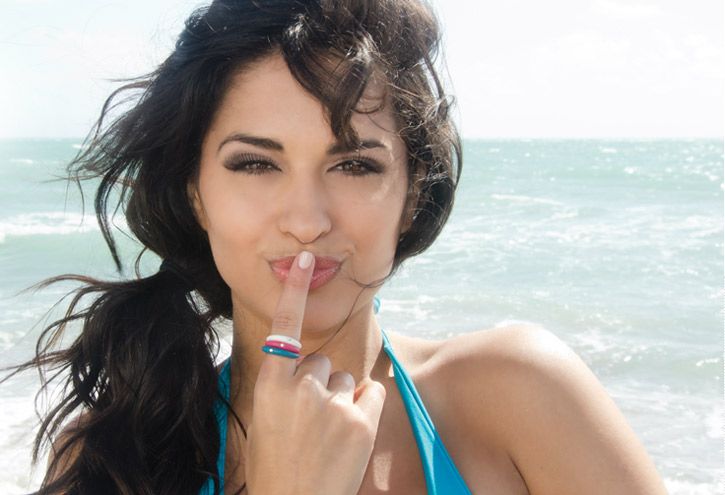 Photo Courtesy of DuePunti Jewelry
Color is making a major comeback in
fashion this summer
and we couldn't be more thrilled. From punchy bright pinks to adorable mint greens and blue hues, there's a vibrant shade out there for everyone. Not sure if bold brights are right for you? Here are some brilliant ideas to inspire you.
Hello! Skinny Jeans $159
It's no secret that bright colored denim is all the rage this summer, but they can be undoubtedly intimidating—especially for those of us with less than flawless figures. Hello! Skinny Jeans are my new denim obsession for so many reasons. The genius technology behind the brand is both slimming and flattering (you'll be amazed at the ultra-stretchy and forgiving fabric, perfect pocket placement, clean tailoring and more), which will instantly boost confidence. Best of all, Hello! Skinny Jeans come in a myriad of fun colors to choose from this season, so you can rock the trend and show off your assets with style.
DuePunti Stackable Diamond Rings $98
Looking for a more discreet way to show off your favorite color? Stack on a gorgeous non-allergenic silicone and diamond ring from DuePunti this summer! This Milan-based company brings affordable luxury (each ring boasts a .02 carat diamond mounted in silver for just $98) and comes in a rainbow of pretty shades. These make great gifts for girlfriends and allow for endless creativity when accessorizing your summer ensembles.
Gomez-Gracia Criss Cross Shift Dress
Say goodbye to the little black dress (at least momentarily) with an electrifying little number from Gomez-Gracia. Featuring sexy silhouettes and new bold hues for summer, these designer dresses are luxurious and perfectly on trend. Color blocking is all the rage, and you'll turn heads in this stunning combination of hot pink and orange.
HauteBetts Gypsy Bracelets $45
Handwoven with love, these colorful bracelets are reminiscent of old school friendship bracelets for the modern woman. A smattering of sparkling rhinestones add instant glamour, and the colorful range of options are perfect for casual daytime looks. Stack a few on and mix with metal bangles for a uniquely treasured look.
Moni Moni Leather Handbags
Constructed of luxurious Italian leather, Moni Moni handbags are durable, ultra-functional and seriously stylish. Available in bold new shades for summer, there's a sassy bold satchel out there for even the most discriminating shopper.
Unlimited POP Phone $34.95
Make a statement every time you make a call with an Unlimited POP Phone. Quite possibly one of our favorite new accessories, these kitschy, cute retro handsets easily plug into your cell phone and come in brilliant colors for every personality. Who knew such a simple device could instantly inspire a smile every time the phone rings?