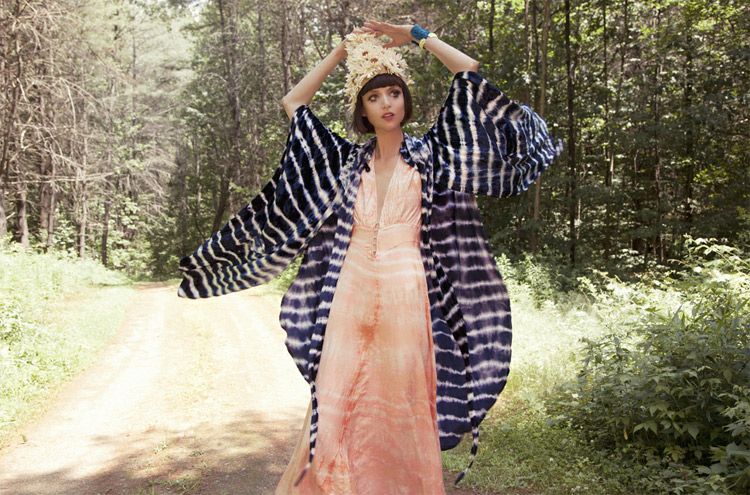 Photo Courtesy of Lindsey Thornburg
Luxury fashion designer
Lindsey Thornburg began her career after moving from Aspen, Colorado to the California where she dabbled in liberal arts before pursuing a design degree in Los Angeles. After moving to New York in 2003 she combined her collection of dresses with the inspiration she garnered from the traditional clothing she found among the Peruvian people during a trip to Machu Picchu.
With a spark of creativity fueled from her trip, Thornburg began creating a cloak collection and in 2010 launched her first, ready-to-wear line of Fall/Winter clothing. Lindsey Thornburg CLOAKS has grown to include much more than what the name implies— using a multitude of colors, textures, and shapes, the Thornburg collections include a diverse range of gowns, blouses, jackets, shorts, and more.
The Heroine Gown : Faded Crimson ($820, pictured top), sewn from custom-dyed silk linen, is in keeping with Thornburg's signature look— a
luxury fashion style
that is understated and effortlessly cool. Like most of her pieces, the Heroine Gown is made to order, ensuring that each is entirely individual and made with the closest attention to detail.
Thornburg's cloaks are not all for winter wear. Her Panel Cloak: Black with Fuschia ($770) is made from 100% silk noil and is cut in a mid length style, perfect for covering up after a beach day. It is crafted with a wood toggle closure and is hand-dyed in New York. Other cloaks include hooded trenches, full length cuts, as well as Pendleton blanket prints and material.
Lindsey Thornburg CLOAKS have been featured in the
New York Times
Sunday Styles,
Elle
,
Vogue China
,
Teen Vogue
, and Style.com among many other publications. To learn more visit
LindseyThornburg.com
.