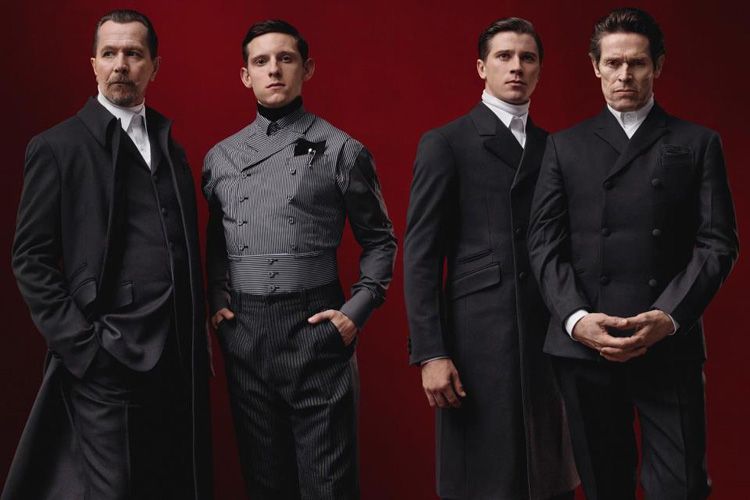 Photo Courtesy of Prada
Prada certainly knows how to get attention for their men's Fall/Winter 2012 campaign by getting some of Hollywood's most respected actors to represent their newest
luxury fashion
line. The photos feature Gary Oldman, Jamie Bell, Garrett Hedlund, and Willem Dafoe against a deep red backdrop.
The four actors were just some of the big names, along with Tim Roth and Adrien Brody, who also represented the 2012 collection walking the runway in Milan earlier in the year.lltitle=Prada's F/W 2012 Campaign With Gary Oldman and Willem Dafoe### llcontent=Prada is well known enough without having to enlist the help of iconic actors but with their 2012 F/W campaign, the brand decided to use the actors anyway. The striking photos feature Gary Oldman, Willem Dafoe, Jamie Bell, and Garrett Hedlund in front of a deep red backdrop.
By featuring the iconic Oldman and Dafoe, along with the newer generation Bell and Hedlund, the clothes illicit past cinematic glamour with a more modern present-day sophistication. No stranger to famous campaign faces, Prada's choice for their Spring/Summer 2012 campaign was actor Michael Pitt. Prada also released a promotional video a mere month ago that was directed by Roman Polanski and starred actress Helena Bonham Carter and actor Sir Ben Kingsley.
Even without the well-postured actors portraying the clothing line, the grayscale color scheme projects attitude and personality all by itself. The simple and sophisticated cuts, paired with Prada's penchant for incredible detail, creates classically masculine looks.
For more information visit
Prada.com