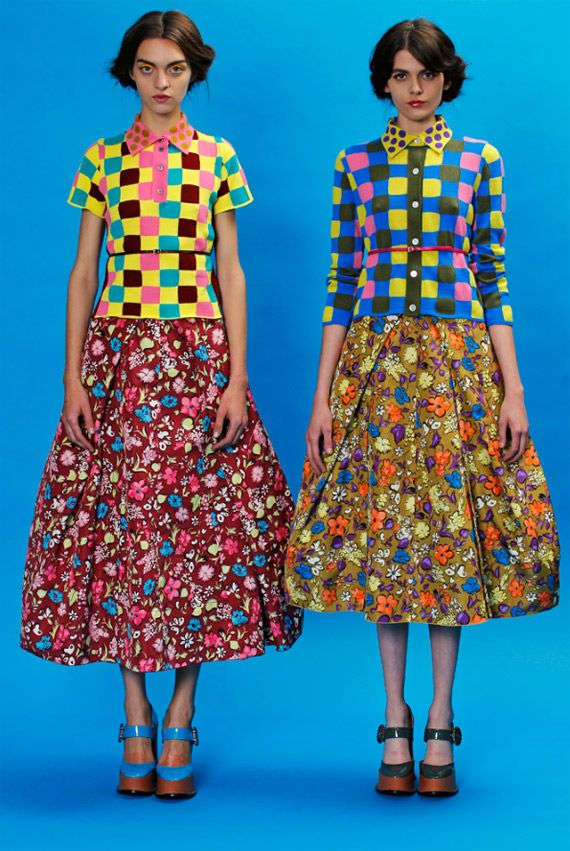 Photo Courtesy of Marc Jacobs
Contemporary artist Cindy Sherman's clown series was the jumping point for the brand new Resort Collection from
iconic fashion designer
Marc Jacobs. In true tradition of "clown culture," the Resort Collection features extreme proportions, both overly large and shrunken, as well as brightly clashing prints and oversized accessories.
Some of the pieces in the collection, such as a tie front midi length pleated A-line dress with dot silk paneling, suggest a rag doll-like quality. Other designs feature wide leg flared pants and floral satin crepe long tank dresses paired with a long sleeve crew neck sweater.
The pop of intense colors and prints combined with the expansive shapes and outlines of the collection (imagine puff sleeves and bouffant skirts) channel a range of fashion eras. Many of the pieces seem to have jumped from an Andy Warhol print with splashes of yellow, pink, blue, and green layered beside each other.
The costume-like quality of the Resort Collection borders on gaudy, and while many designers would have aimed to exaggerate only one elemental quality of the work, the exuberance of the shape, texture and color seem to achieve a type of cartoonish glamour — outfits for a parade of glossy marionettes or lively circus troupe.
The interplay between playful, careless, and garish succeeds in channeling the bright excess of Sherman's series, however, with a more sunny quality. To see all the designs in Marc Jacob's lively new collection visit
MarcJacobs.com
.