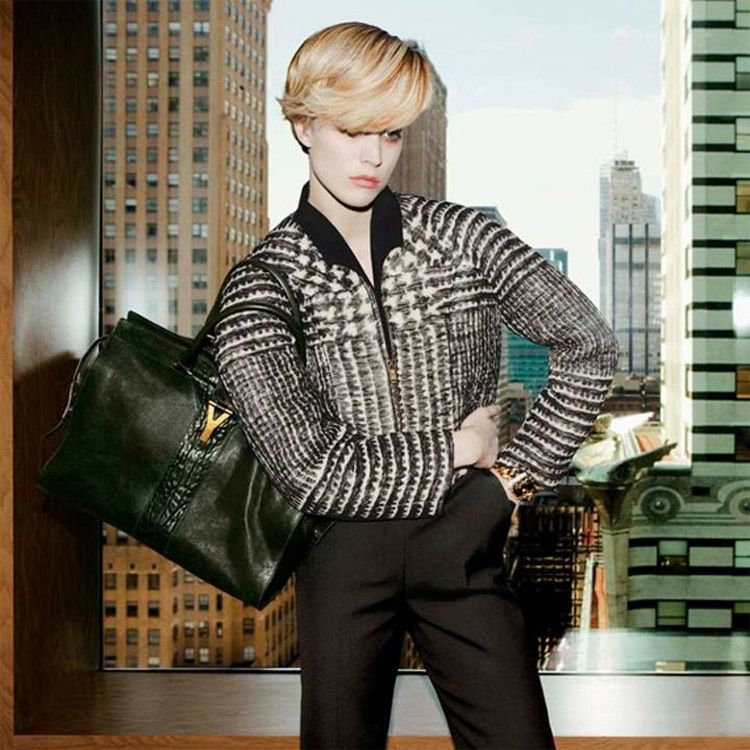 Photo Courtesy of Yves Saint Laurent
The new creative director of luxury fashion brand Yves Saint Laurent, Hedi Slimane, hasn't had much time to leave a mark on the company, but his first order or business is reportedly to rename the iconic brand as Saint Laurent Paris. CEO Paul Deneve reportedly confirmed the decision for the name change via internal email.
"I am very pleased to announce an exciting step in the history of our brand and our business. As part of our strategy to become one of the world's true leaders in fashion and luxury, we are transforming the name of our brand from 'Yves Saint Laurent' to 'Saint Laurent Paris.' The new name of our brand has been shared with the media today. The brand identity and visual language will be introduced over the next several months and will be fully in place for the Spring/Summer 2013 collection."
He continued to say, "This change celebrates our legacy and heritage, while boldly marking our ambition for the future. It will allow us to return to the fundamentals of YSL and revive the spirit and the intentions that reigned over the creation of 'Saint Laurent Rive Gauche' in 1966: principles of youth, freedom, and modernity." Although the name will no longer be the same, the famous YSL logo will remain.
Slimane is also planning to bring back the original fonts used when the Rive Gauche line launched in 1966. Slimane only took over as Creative Director in March, a position formerly held by Stefano Pilati. His Men's Spring 2013 and Women's Resort 2013 will only be presented to buyers, while his first official show and statement will be launched during Spring 2013 collection over Paris Fashion Week later this year.
To learn more visit
YSL.com
.