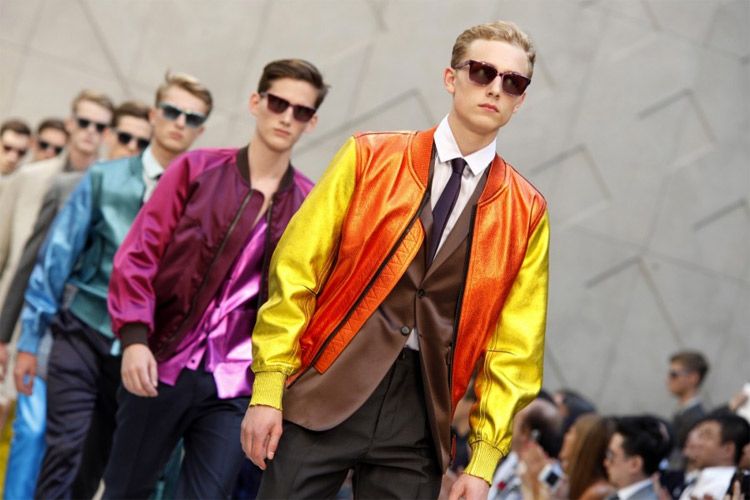 Photo Courtesy of Burberry
Burberry Chief Creative Officer Christopher Bailey knows how gloomy English rain can be and it looks like his personal experience with weather played a huge part in the Burberry Prorsum Spring/Summer 2013 Menswear collection. While rain-appropriate clothes are often featured in the British
luxury fashion
house's lines, they've generally been designed modestly in earth tones. This new collection takes a more sci-fi glam-rock direction, featuring bright metallics and attention-getting designs.
Bailey has given rainy weather an attitude-ridden collection, which is a fun and youthful answer to fashion (we're politely ignoring the pairing of metallic sandals with black socks). lltitle=Burberry Menswear Spring/Summer 2013 Collection Combines Color and Texture### llcontent=Burberry's Spring/Summer 2013 Menswear Collection combines color and texture to create eye-catching but practical looks. Straying from the cliche earth-tone outerwear, the line includes bright foil-colored rain coats, as well as suits and jackets. Who ever said that weather-appropriate outerwear couldn't be luxurious?
The vibrant colors do more than pop, they seem to move with electric fluidity. By pairing the unexpected use of colors with the more conventional tailored suits and coats, the Spring/Summer 2013 Collection brings something new and fresh to the menswear scene. While some looks may certainly be difficult to pull off for men other than Swedish models (the bright pink foil raincoat perhaps), others, like the well-tailored grey suit with a soft green metallic shirt beneath, could be easily integrated into your closet.
The collection also features interesting impressionistic patterns and a restructuring of bomber and military-esque jackets, with most paired with bright foil colors. Recognizable cuts are transformed by the simple, yet daring, choice to lengthen shirts longer than the overlaying jackets.
For more information visit
US.Burberry.com