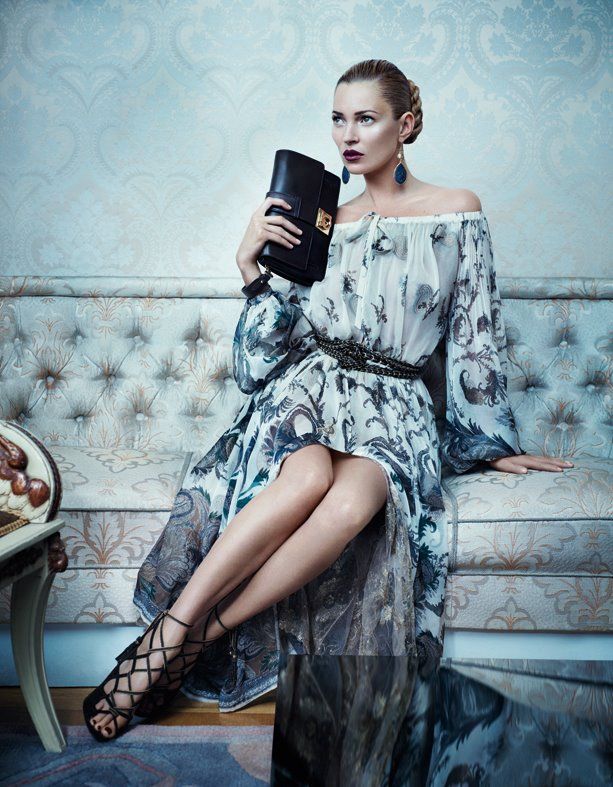 Photo Courtesy of Salvatore Ferragamo
Luxury fashion
design house Salvatore Ferragamo just released the first look at their new Autumn/Winter 2012/2013 Campaign starring supermodel Kate Moss, Karmen Pedaru, and Sean O'Pry. The collection features a strict, militaristic theme that is expertly combined with soft touches to create a line that is both romantic and cinematic.
Shot in the ornate Russian embassy by photographer Mikael Jansson, the models pose amidst antique furniture and interesting architectural elements. Massimiliano Giornetti, the creative director, wanted the campaign to bring forth a Czarist Russian comparison, which was behind the location choice.
In one of the photos, Moss is resting atop a beautifully patterned couch, while in another Pedaru is standing rigidly in front of geometric mirrors, her stance enhancing her military-style coat. O'Pry is the height of refinement in a sleek tailored suit, seen sitting in a boardroom chair in front of Pedaru. The brand intended the women to represent two sides of the same feminine ideal (a woman who is both elegant and strong), while O'Pry is Ferragamo's image of the perfect cosmopolitan man. We love when fashion designers have a story behind their campaigns and we can't wait to see what else Ferragamo has in store for us.
For more information visit
Ferragamo.com