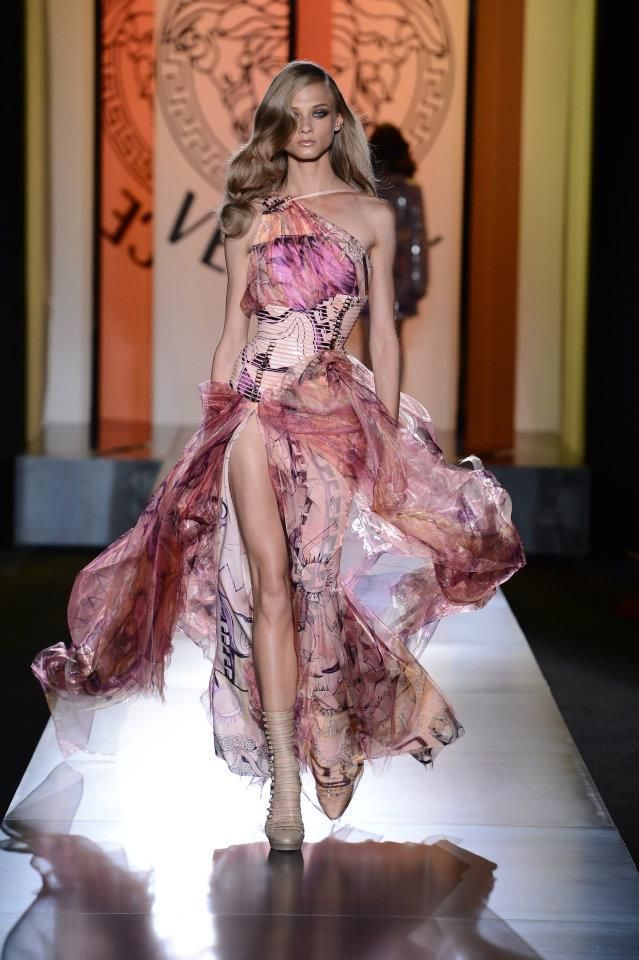 Photo Courtesy of Versace
Luxury
fashion designer
and icon, Donatella Versace unveiled her new Atelier Versace Fall/Winter 2012-2013 Collection by kick-starting Paris' haute couture ball on July 1, 2012, a three-day event that will feature two dozen fashion houses. The collection of glamorous dresses wrapped the models in layers of chiffon and tight bustiers made from strips of fine leather, many accented with crystal embroidery, as they walked the runway in statement-making shoes.
Always ahead of
fashion trends
, Versace has stated that her haute couture collection was inspired by the imagery of tarot cards and it's immediately obvious when looking at the dreamlike designs. Many of the dresses feature high slits, bold abstract prints, and vibrant colors (including plum, chartreuse, sky blue, and raspberry sherbet) that reflect some of the major arcana cards meant to symbolize different aspects of human nature, like the lovers, the star, the moon, the sun, and the empress.
Pants are nowhere to be found in this collection filled with dresses, from the long and flowing to the short and tight. There are even chic coats that fall mid-thigh and are worn as a single piece with an over-sized chunky belt. The colors and frivolity of the designs work well together to create an ultra-feminine line that is filled with flirty pieces we absolutely love. Out of the mini-dresses, our favorite would have to be the cream and purpled metallic number with thin shoulder straps and what looks to be strips of plastic patterned over silk satin. From the flowing dresses, the bright chartreuse design really struck us, especially the intricate beading along the bodice.
The majority of these looks may not translate well for every day wear but they would certainly impress at any gala, red carpet event, or rendition of Shakespeare's "A Midsummer Night's Dream."
For more information visit
Versace.com