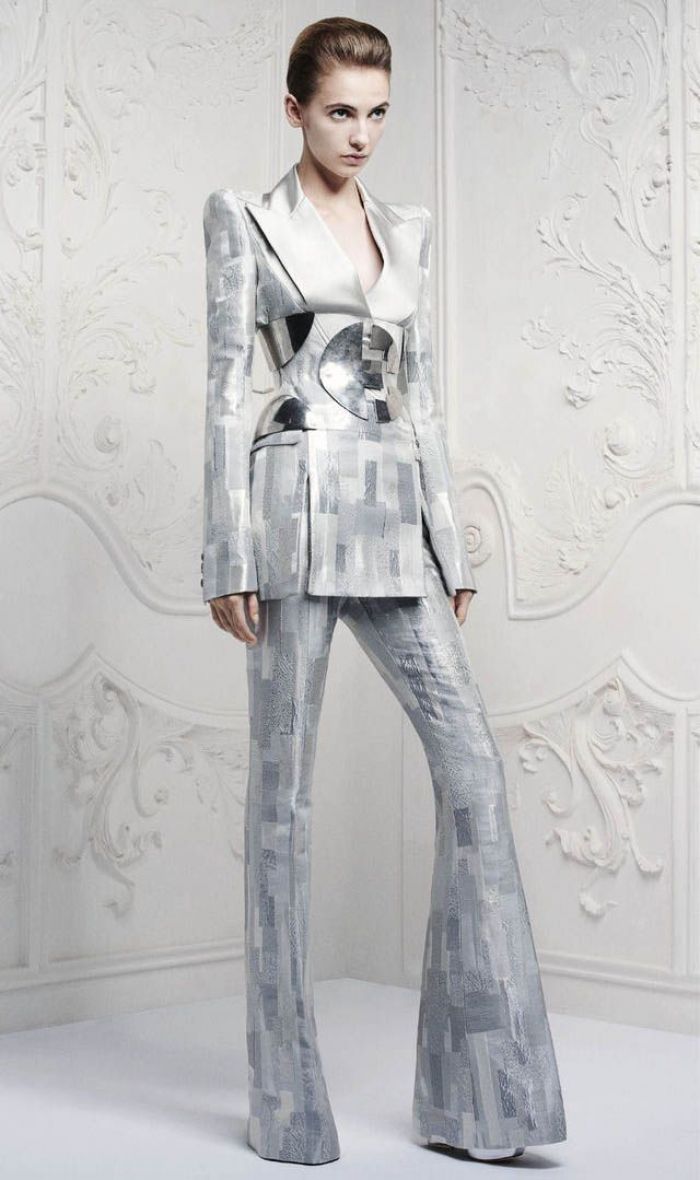 Photo Courtesy of Alexander McQueen
The newest
fashion trend
definitely appears to be the use of metallics and Alexander McQueen's new Resort 2013 Collection is no different. What
is
different about this line is pairing the metallics with androgynous looks fit for a 1970's David Bowie. With shoulders structured in peaks and dramatic silhouettes, we'll be pretty surprised if you're not enamored with these pieces.
Form-fitting Art Deco patterns, most metallic but a couple utilizing abstract colors, are impeccably tailored into striking blazers and wide-legged slacks. We love that the model is styled very cleanly, with very few accessories and distractions. Wide belts cinch in the waist to push proportions higher and emphasize feminine lines within the very masculine-inspired looks. We really love the blocked silver pantsuit; the elongated legs and sharp lapels really stand out in its simplicity, with the futuristic clear belt binding the waist. If actress Tilda Swinton is looking for a new red carpet look, we think we've found it.
While the various pantsuits are certainly collection standouts, McQueen wasn't about to let the dresses go unnoticed. Gorgeously detailed, many with the same large belts as accents, the dresses feature elaborate embroidery and play the ultra-feminine counterpart perfectly. Possibly the look that stands out the most is the draped, bright orange jersey dress that makes an impression based on color alone. Other dresses, each elongating the body, are stunning with their rich gold colorings, many offset with black. We especially love the detailed dragonfly gown, and the form-fitting gold lamé number with a beautiful beaded neckline and an interesting snakeskin pattern.
For more information visit
AlexanderMcQueen.com