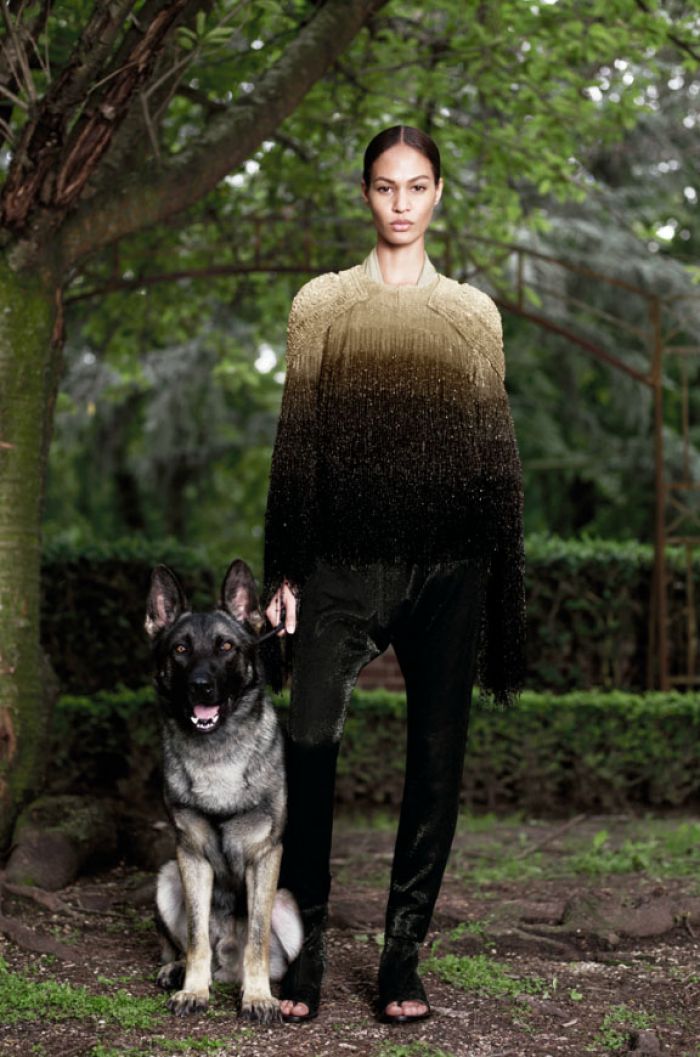 Photo Courtesy of Givenchy
Givenchy's newest Fall 2012 Couture Collection, brought together by Creative Director Riccado Tisci, is an intriguing array of sixties-inspired designs with clean lines and intricate beading. The
luxury fashion
brand also brought in the free-spirited style of gypsies found in Southern Italy, using earth tones of chestnut and terracotta, to create a collection that stands out as an interesting mix of haute couture and street wear.
Many of the looks nearly cover the entire body, using long hemlines and high necks, so that when skin is shown, it results in being seductively alluring. Beaded fringes were strung by hand in intricate patterns, with one of the most impressive being the black silk organza and velvet cape. Embroidered red bead fringes, along with the black coloring, create a gorgeous mosaic pattern. Leather is also used to great effect, especially in the cape made up of long leather fringes. The upper portion of the cape features black braided leather and metal rings to create a nice 3D effect.
Aside from the lovely beadwork on some of the pieces, we also loved the black silk crepe halter dress with the attached halter cape. The brown patent leather scroll embroidery along the inside of the cape and front of the dress really stand out amongst the black. The elegant cape also features a bare upper back that lends a seductive angle to the seemingly demure look. Even the pieces that are clean in design, like the bareback caramel dress in plucked mink, stand out in their simplicity and new direction.
Accessories were kept to the bare minimum through the use of sandal boots, some built into harem-style pants, and strange visors that at times appear to be masks belonging in a science fiction film.
For more information visit
Givenchy.com