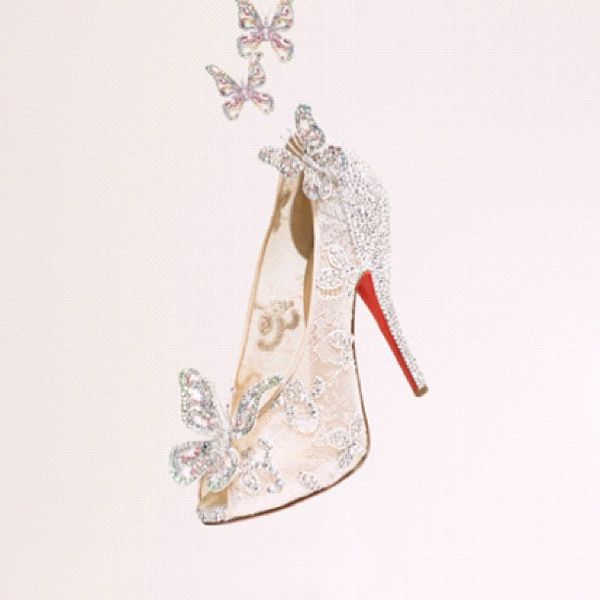 Photo Courtesy of Christian Louboutin
Disney lovers and fashionistas alike will be thrilled to learn
luxury fashion designer
Christian Louboutin unveiled a modern day version of one of the most iconic shoes in history: Cinderella's glass slipper. Louboutin is collaborating with Disney to create a limited edition shoe that will commemorate the much-loved Disney classic, which will be released on Blu-Ray this fall.
The re-imagined slipper was previewed Wednesday at the Palais Brongniart during the Paris Couture Fashion Week. Unlike its animated inspiration, Louboutin's version is not completely transparent. Accents of lace, Swarovski-crystals, and glittering butterflies make the pair a delicate and modern tribute to film. The shoes will not be produced for mass consumption; however Louboutin and Disney plan to give about 20 pairs according to an article by
USA Today
. In addition to the ornate design and Louboutin's signature red underbelly, the heel measures about five inches—quite a height for a Disney princess. (
Photo Courtesy of Walt Disney Studios
)
"It's a very classic fairy tale about love," Louboutin says, "and the dream that love is absolutely pure." Louboutin will also be featured in a short Disney-produced film called
The Magic of the Glass Slipper: A Cinderella Story
. After tackling this project with Disney, there has been conversation that Louboutin will put his signature mark on other Disney collaborations.
To learn more visit
ChristianLouboutin.com